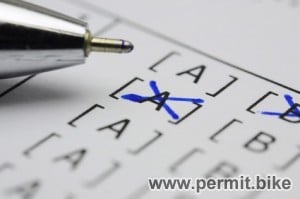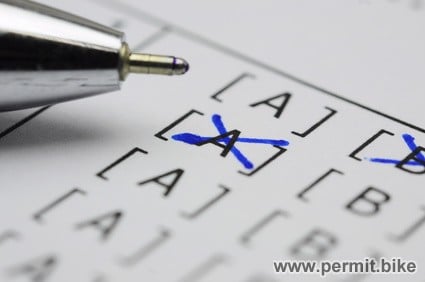 Motorcycle riders must be familiar with the driver's manual of the state they reside in before they can get their permit. Riders must have either a class M motorcycle license or a motorcycle instruction permit. In order to obtain these riders must pass a knowledge test as well as a motorcycle skills test. The knowledge test will test riders on general information that can be found in the motorcycle operator's manual. The skills test will be conducted in an actual traffic environment or in a controlled, off road environment.
Some people have a hard time taking tests and they get very anxious when they have to do so. This anxiety can cause people to perform poorly on the test they are taking. It is usually a good idea to practice for any test before you take it if the option is available. When it comes to taking a motorcycle permit test there are usually a number of resources available for people to choose from online.
Riders that are serious about preparing for their DMV motorcycle practice test can find copies of the motorcycle operator's manual and the permit test online. It is recommended to try a practice test at least once before taking the real test to get an idea of how you will perform on the test. Some people find it beneficial to take the practice test several times before they actually take the real test while others prefer to just study the operator's manual and then take their test.
Some people chose not to take the DMV motorcycle practice test before they take their real test. While some people get lucky and do well on their final test, most people find that they could have scored much higher if they had taken the time to take a practice test or two. Every person prepares for a test differently, and what works for one person may not work for another.

Permit.Bike is singularly devoted to the purpose of providing an easy-to-learn and simple approach to the act of riding.