Selecting the right motorcycle insurance, in many ways, is like trying to choose the right bike. You want the policy to fit your lifestyle while staying within your budget. While most states require that motorcyclists carry the minimum in liability coverage, you may still want to consider the other coverages as well. To understand what coverage applies to you, it is helpful to know the options.
Liability Insurance Coverage
Liability insurance is designed to cover property damage and bodily injury that is considered your fault. The protection, however, does not extend to your cycle. Guest passenger liability insurance also safeguards you in case a passenger is injured while riding on your cycle. Whether this specific protection is included depends on a state's laws and the insurance company's liability terms for coverage.
Collision Insurance
Collision coverage protects you for any damage to your bike if you get involved in an accident. The insurance company pays for the damages less the deductible you choose. In most instances, collision insurance will cover the motorcycle's book value before the loss.
Comprehensive Insurance
Comprehensive insurance will pay for damages that result from an event other than a collision. Just like collision insurance, the damages are covered minus the chosen deductible. The book value of the motorcycle is normally covered under the plan.
Optional Equipment Insurance
When it comes to insuring your motorcycle, remember that collision and comprehensive protection only cover the standard parts on a motorcycle. Should you decide to include additional accessories, such as custom paint, trailers, chrome parts or a sidecar, you need to look at purchasing optional equipment insurance.
Uninsured and Underinsured Motorist Coverages
Uninsured and underinsured motorist insurance will cover damages to your property and yourself. This insurance protects you in case the other driver in the mishap is driving without insurance or lacks enough coverage. The protection pays for lost wages and medical expenses as well.
If the uninsured or underinsured motorist policy features coverage for property damage, then your bike will also be covered if you are hit by a driver who does not have enough coverage or any insurance at all. You will need to find out if property damage under this category is included in the plan or needs to be purchased separately.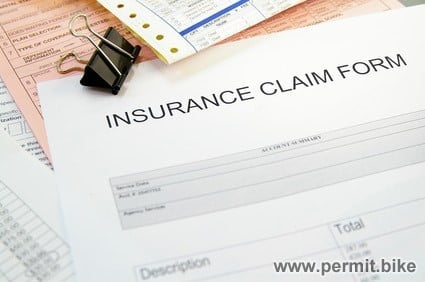 The Cost of Coverage
The number of factors can determine what you will pay for motorcycle coverage, some of which are:
The deductible you select (usually $500 or $1,000). The deductible is the amount you are willing to pay upfront before the insurance kicks in. In some instances, people will choose a higher deductible in order to save on their premium. However, take a hard and close look at your budget. If you cannot envision paying $1,000 out of savings to fix your Harley, it is prudent to choose a lower deductible or one that would be more realizable.
Your age. Studies show that certain people are more reckless than others at a certain age. Therefore, insurance actuaries must factor this component into the equation.
The type of cycle you own. Obviously, if you drive a higher-powered, more expensive or more recognized motorcycle, like a Harley, you will pay more.
Matching the Coverage with Your Lifestyle
You need to fit the coverage with your lifestyle, type of cycle, your driving history, age, and gender. Some insurance companies will offer a discount of 10 to 15 percent for graduates of motorcycle training courses.
The MSF Course
The Motorcycle Safety Foundation or MSF offers such a course. Since a rider, under the age of 25, is typically considered a higher risk driver, he can realize some savings on the cost of insurance by taking the MSF course. The course is also advised for any cyclist who has already been involved in a motorcycle accident or accidents.
Maintain a Good Driving Record
If you maintain a good driving record, then you will also pay a lower insurance bill. Some motorcyclists in the northern tier of the U.S. opt for a lay-up policy. When this type of protection is in force, all the insurance coverage, except for the comprehensive insurance, is temporarily suspended during the wintertime.
Review the Discounts
Also, find out what discounts are available from your insurance provider. The style and type of the bike, the cycle's age, and annual mileage, as well as its storage location all, play a part of the premium paid.
Permit.Bike is singularly devoted to the purpose of providing an easy-to-learn and simple approach to the act of riding.