How To Get a Motorcycle License in Alabama
Any driver who is interested in attaining a motorcycle license will quickly become aware that the requirements for attaining such a license vary from those needed to operate a normal vehicle. Additionally, the required tests and forms vary from state to state. Anyone who is new to Alabama will definitely benefit from a guide to attaining an Alabama motorcycle license. By familiarizing yourself with the tests and required paperwork, you will not face any surprises and waste valuable time when you make your way to the proper licensing facility state.
Transfer out of State License
As is the case in most states, a driver already holding a valid motorcycle license can simply have their license transferred. The license can be converted at the Department of Public Safety. There are very few requirements when taking this approach. All that is required of drivers is a social security card, the physical license to be transferred, a primary form of identification, and the required payment for making the transfer. Drivers cannot make payments in the form of a check. However, all other forms of payment are acceptable for an Alabama motorcycle license. The transaction includes a five dollar transfer fee and a licensing fee that totals $23.50. In terms of identification, there are several acceptable primary identification cards that include a passport, a conventional driver's license, a standard identification card, or a form documenting official citizenship.
Age Restrictions
Alabama also has age restrictions on this type of license. Alabama also makes a distinction between a motor-driven bicycle and a Class M motorcycle license. Drivers at the age of 16 and above are eligible for the Class M license while the motor-driven license can be given to drivers at the age of 14.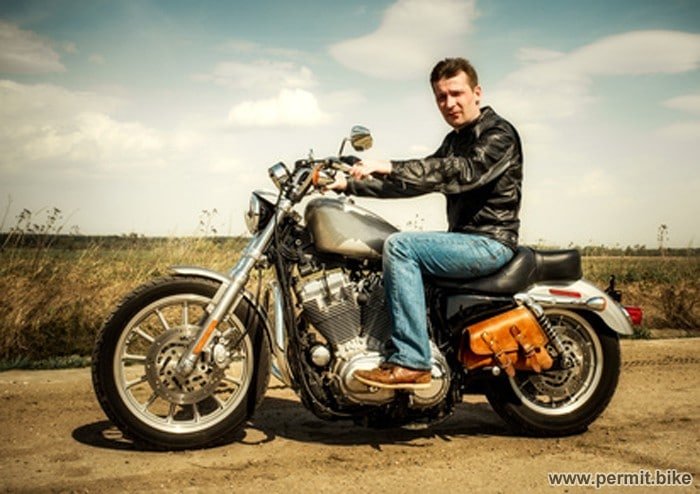 Written Test
All drivers will be required to pass a written exam in order to attain their license. The material that will appear on the test can be found in a study packet that is available online. The Alabama Motorcycle Operator Manual is completely free to drivers. It is advised that all drivers take at least one practice exam in order to prepare themselves for taking the actual test. Drivers must also schedule a time to take this test with the nearest Department of Public Safety in the state. Although it is not required, the Department of Public Safety also highly encourages all motorcycle drivers to enroll in a Rider Safety course that is designed to instill a foundation for motorcycle safety.
Road Test
In addition to the written exam, riders will be required to perform an on-cycle skills test before receiving their Alabama motorcycle license . This exam must also be scheduled with the Department of Public Safety. When arriving to complete this portion of the test, it is required that drivers present the examiner with a birth certificate, their social security card, and a secondary form of identification. This type of identification can include a current permit, a marriage license, a non-driver identification card, or a form of military identification. Riders at or below the age of 15 must also show proof of enrollment in school or some evidence of graduation from such institutions.
The on-cycle skills exam is typically the area that gives riders the most difficulty. While the test can be intimidating, understanding exactly what you will face on the course can help to ease the nerves of new riders. This exam is designed for riders to display their basic abilities to control a bike and perform the most basic maneuvers. This skill set will include having the ability to display the proper hand signals for turning and stopping and exhibiting safety when it comes to acceleration under a variety of conditions. Riders will also be evaluated based on their ability to safely break and make decisions that are related to traffic awareness. Some of the most common procedures for this test include starting and stopping while on an inclined surface and making sudden stops safely. Typically, there is also a section of the test that uses cones to assess maneuverability and how well a driver can take turns. In most areas, it is not difficult to find a practice course in order to sharpen one's motorcycle skills before taking the actual exam.
Registration
Riders will also be required to register their bike in this state as well. The state of Alabama licenses these vehicles in the same way that it tracks trucks and automobiles. The title application must be completed in order for the registration and paperwork to be properly processed. During this procedure, the taxes relevant to the vehicle will also be determined. This process must be completed in the relevant county. Drivers will be required to pay a small processing fee in addition to an application fee of just $15. Once all of these steps have been completed, you are ready to legally hit the beautiful, open roads of Alabama on your motorcycle.

Permit.Bike is singularly devoted to the purpose of providing an easy-to-learn and simple approach to the act of riding.