Motorcycle Permit Practice Test
Pass your motorcycle permit test on your first try!
Fulfilling your Motorcycle Riding Dream
Have you dreamed of cruising down the streets or hitting the trails on your motorcycle? Now you can realize your dream by preparing for the Motorcycle Permit Test with our online practice questions.
Our comprehensive online practice questions are based on your state's official motorcycle handbook and are designed to rev up your skills, knowledge, and confidence to ace your Motorcycle Permit Test. Perfect for newbie riders, first-time test takers, renewals, and resits, our unique question bank offers an unbeatable practice test experience that's hard to beat.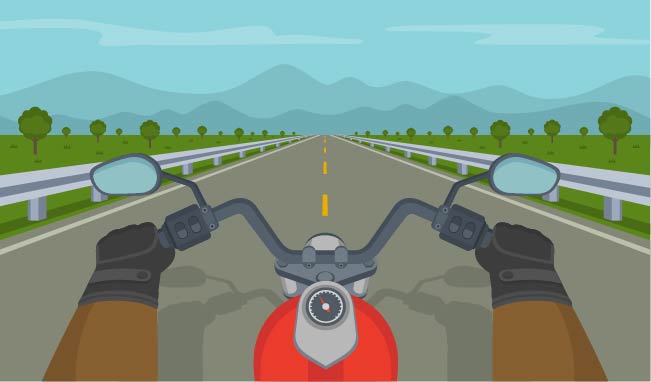 We're Making It Easier for You to Pass Your Motorcycle Permit Test
Motorcycles are a fun, exciting way to get around, but before you can sit on the seat of a motorcycle and hit the roads, you first have to pass the Motorcycle Permit Test administered by your state's Department of Motor Vehicle (DMV).

We understand that studying for the Motorcycle Permit Test can be daunting and overwhelming. That's why www.Permit.bike provides a comprehensive practice test experience that helps you gain a deep understanding of the road rules and develop the skills needed to become a safe and skilled rider. With our user-friendly platform, you can practice at your own pace and get the results you need to succeed.

Don't leave your future on the road to chance. Sign up with us to access our exclusive test questions and start practicing so you can be sufficiently ready to take on the Motorcycle Permit Test!
Ace Your Motorcycle Permit Test And Rev Up Your Riding Skills To Hit The Roads!
Preparing for the Motorcycle Permit Test doesn't have to be a nightmare. With our comprehensive practice questions and detailed explanations, you will be well-equipped to take on the test and ace it. And it's really ABC easy!

· A = Access our comprehensive motorcycle permit practice questions and gain an in-depth understanding of the road rules.
· B = Boost your skills, knowledge, and confidence.
· C = Cruise down the streets or take on the trails on your motorcycle after passing your Motorcycle Permit Test.
Choosing an Online Motorcycle Theory Test Site
The truth is, studying the DMV motorcycle handbook is essential to passing your motorcycle permit test but it's not sufficient enough to help you ace the actual exam. That's why it's important to get a reputable online platform that provides you with all the right resources and tools to help you prepare for the real test confidently.
At www.Permit.bike, we understand the importance of passing the motorcycle permit test and that's why we provide comprehensive expert-reviewed practice tests that will have you feeling confident and well-prepared.
Our Users Pass Their Motorcycle Permit Test. Here's Why.
That's right! Our platform gives you the tools and resources and motorcycle permit practice test you need to excel on the Motorcycle Permit Test. And the best part? It's accessible anywhere, anytime, with absolutely no cost and pesky restrictions. Here's what's in it for you:
1. State-Specific Test Questions
Our practice test questions are thoughtfully prepared, compiled, and checked for accuracy with your state's motorcycle driver handbook. This ensures that you are getting close to the real test questions, so you can feel confident in your preparations.
3. Practice Tests Like the Real Thing
Get familiar with the Motorcycle Permit Test using our simulated tests. From the individual questions to the motorcycle permit practice tests, all our resources are designed to provide you with an authentic experience of what the real test looks and feels like. This increases your chances of success tremendously.
5. Better Study Process
Going through DMV manuals to prepare for the Motorcycle Permit Test can be arduous. With our motorcycle permit practice test platform, you can save time and skip all that extra effort with our organized, streamlined program. Plus, the Challenge Bank and Performance Analysis Report makes it easier to focus on your weak areas.
2. Premium Access For Free
Access ALL of our incredible motorcycle permit practice tests and quizzes to hone your knowledge and skills for the Motorcycle Permit Test without spending a dime! We've done all the heavy lifting, so you can just focus on preparing for the exam.
4. Accessible On The Go
Learn in the comfort of your own home, on the go, or anywhere else that suits you best. Our platform is optimized to work on any device, so you can set up a study schedule that fits your lifestyle and commitments without any hassle.
6. The Pass Strategy
Our interactive and innovative Pass Strategy guides you right down the path to success with the Motorcycle Permit Test. Take the practice test multiple times, use the Challenge Bank to fine-tune your answers, and keep track of your progress with the Performance Analysis Report. Honestly, this is a surefire way to pass the test. So what are you waiting for? Get ready for success with www.Permit.bike!
Kick Out Your Anxiety Before the Real Test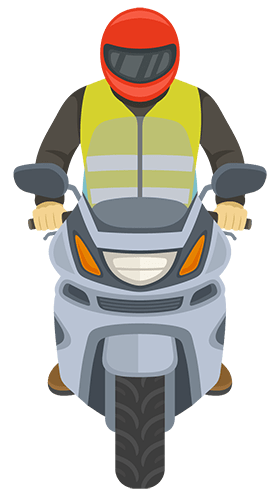 Motorcycles provide a sense of freedom and flexibility to enjoy the open roads and explore uncharted trails and backroads. But before you can hop on your bike and hit the road, you must get your motorcycle permit first.
If you're looking for a tested and proven way of prepping for the Motorcycle Permit Test, then www.Permit.bike is your go-to place to get it done by taking our free motorcycle permit practice test.
With our extensive library of practice tests and quizzes, real-time performance tracking, easy-to-use challenge bank, and specially curated tips and strategies from DMV experts, we make sure you're prepared and ready to ace the real Motorcycle Permit Test.
We provide state-specific tests that mimic the real test environment and accurately assess your knowledge. We believe the only way to ensure success on the Motorcycle Permit Test is to create a comprehensive and well-structured study program, which our platform offers.
So don't wait any longer! Get ready to ride off to your practical exam by getting on the www.Permit.bike and joining the thousands of users that have already passed their Motorcycle Permit Test with flying colors! Sign up today and unlock the exciting world of Motorcycling!