The Best Lightweight Motorcycle Helmets
Motorcycle helmets have evolved over the years, taking shape in today's sleek and chic cranial protectors.  Though riders are still legally permitted to wear outdated beanie helmets, there are more protective and formidable lightweight helmets on the market.  Contemporary lightweight helmets are comfortable, sturdy and built to last.  Most of today's motorcycle helmets are comprised of ABS thermoplastic alloy.  Some such helmets feature a shell made of injection-molded polycarbonate that proves quite durable without weighing down the rider. 
Motorcycle helmet shields have progressed to the point that they do not fog up and provide unimpeded sight lines for optimal vision.  The interior of helmets has progressed, with the addition of cheek pads and liners comprised of hypo-allergenic materials and uber-soft foam.  In fact, modern motorcycle helmets even feature adjustable vents to maximize airflow.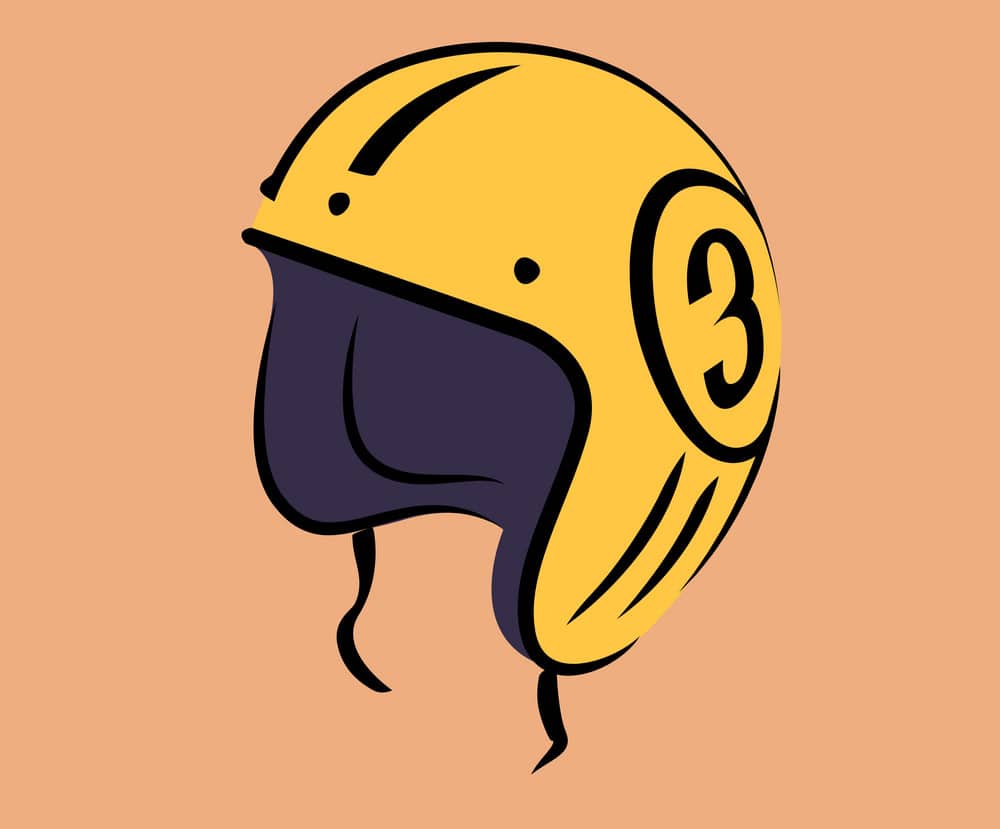 The Engineering of Lightweight Motorcycle Helmets
Motorcycle helmet weight is determined by the materials used for its construction.  However, if you add accessories to your helmet, it will prove that much heavier.  Furthermore, the helmet type also has the potential to impact the total weight.  As an example, full-face helmets weigh less than the modular variety.  If weight is your primary concern, do not add accessories such as a visor.  Each accessory tacks on that much more weight to the helmet, weighing you down all the more as you zoom around town.
Above all, helmet weight is primarily dictated by the materials used for its construction.  From the interior padding to the outer shell, the weight of each material used in making the helmet impacts the total weight.  Motorcycle helmets consisting of a plastic resin exterior shell are fairly heavy.  Alternatively, a motorcycle helmet comprised of carbon fiber will prove comparably light.
Considerations When Purchasing a Lightweight Motorcycle Helmet
No two lightweight motorcycle helmets are exactly the same.  Take your time, review a variety of factors and you will be able to make a truly educated decision.  Above all, do not let price be a deal-breaker.  As is often said, you get what you pay for.  Keep in mind, you will wear your motorcycle helmet every single day so paying a premium is almost always worth it.  Aside from price, additional key considerations include:
Fit
Safety
Helmet type
Vents
Liner
Internal padding
Best Lightweight Motorcycle Helmets of 2020: Commuter Motorcycle Helmets
Top Tier – Bell Eliminator Carbon  
This beauty of a helmet weighs slightly less than three pounds (2.98 pounds to be exact) and costs a pretty penny: $600.  However, the Bell Eliminator Carbon is worth the money and then some.  Bell helmets started out as auto racing helmets, meaning they are quite durable and have a bit of a retro look.  The eliminator is a full carbon face helmet with a Class 1 optically correct shield, more vent holes than competing helmets and a sleek design.
Mid Tier – Shark Spartan 1.2
The Shark Spartan 1.2 weighs a mere 2.8 pounds and is priced under $300.  Featuring an aesthetically pleasing black, silver and white design, this compact full face helmet is highlighted by Microtech padding along the interior and elite aerodynamics.  The air will flow freely through this helmet as you zoom to and fro, thanks to the two air inlets in the front and dual spoiler along the rear, combined with integrated air extractors.
Budget Tier – LS2 OF569 Track
Priced at $100 and weighing 2.97 pounds, this helmet is highlighted by a large face shield, a drop-down sun shield and artfully placed eye-catching black trim.
Best Modular Helmets
Top Tier – AGV SportModular
The AGV SportModular weighs 2.85 pounds, costs $481 and fits just right around the head.  Give this helmet a try and you will find it is comfy, well-ventilated and barely noticeable while riding.
Mid Tier – X-LITE X-1004 Ultra Carbon
This helmet comes in at 3.3 pounds, sells for $484 and features an array of uber-cool niceties ranging from Bluetooth integration to a sun visor, pinlock integration and more.
Budget Tier – Sedici Aperto Helmet
Weighing a mere 2.81 pounds, this economical helmet is priced under $150.The fiberglass-Kevlar build makes the helmet both light and strong.  Additional highlights include its drop down sun visor and fully removable multi-density liner that can be adjusted for the optimal fit.
Best Touring Helmets
Top Tier – Shoei GT-Air 2
This lightweight helmet weighs exactly three pounds.  If you are willing to spend between $600 and $700, you will love this comfy, aerodynamic helmet complete with communications integration, sunshield slider, chin bar vent and plush liner.
Mid Tier -Arai Signet-X
The Arai Signet-X weighs slightly more than most other lightweight helmets, coming in at 3.5 pounds with a price tag of $430.  The Signet X's polystyrene liner reinforces the multiple layers of fiberglass for a nearly unparalleled absorption rate.  In fact, the helmet even features Evo Pure antimicrobial cheek pads for the perfect fit.
Budget Tier – Bell Qualifier DLX Blackout HelmetWith a price of $157 and a weight of 3.3 pounds, this helmet is quite the bargain.  Features include clear and smoke face shields, NutraFog II anti-fog protection, integrated speaker pockets and contoured cheek padding for the ultimate comfort.
Best Sport Helmets
Top Tier – Shark Race-R Pro Carbon Lorenzo 2019
This helmet runs $790 yet weighs only 2.9 pounds, proving light, comfy and stylish.  Though costly, the Race-R Pro aces the safety analyses and even combats moisture and bacteria with its bamboo fiber interior.
Mid Tier – O'Neal Sierra II Helmet
The O'Neal Sierra II Helmet comes in a little heavier than some other lightweight motorcycle helmets, weighing 3.5 pounds.  However, the helmet sells at a comparably cheap price of $150 so you get plenty of bang for your buck.  Highlighted by an abbreviated peak visor, vent holes for improved ventilation and a shell made from ABS, this helmet is undoubtedly one of the better values on the market.
Budget Tier – LS2 Pioneer V2 Elevation Helmet
With a low price of $99 and a weight of 3.39 pounds, the LS2 Pioneer V2 Elevation Helmet is one of the better bargains around.  This helmet's niceties include a UV-resistant face shield, fog resistance, quick release chin straps, and removable/washable cheek and liner pads.
The Right Motorcycle Helmet for You is Out There
Look hard enough and you will eventually find the perfect new motorcycle helmet for your unique needs and desires.  When in doubt, opt for the lightest possible helmet for optimal comfort while riding.  Try on a couple of the examples detailed above and it won't be long until you find a helmet that suits your unique head shape, weight preference, and price point.

Permit.Bike is singularly devoted to the purpose of providing an easy-to-learn and simple approach to the act of riding.