How To Get a Motorcycle License in Maryland
If you're interested in driving a motorcycle, you need a class M license. To get this, you need the training specified by the Motor Vehicle Administration of the Maryland Department of Transportation (DOT).
Motorcycle Safety Course
If you're over 18, then you do not have to take a motorcycle safety course, although it is encouraged. If you are under 18, you must take a safety course that's either offered through the Maryland Motorcycle Safety Program or from another state with a course that's specifically approved by the Maryland Vehicle Administration (MVA). Two motorcycle license MD courses are available:
Basic Rider Course: A 17-hour program for the true beginner with little to no riding experience. Certified instructors teach skills in the classroom and through riding.
Alternate Basic Rider Course: A seven-hour program for those with some riding experience.
You must have a valid driver's license or a motorcycle learner's permit or be eligible for a learner's permit. If you're under 17, you need a consent form signed by your parent or guardian. Protective clothing is also necessary during the riding training, such as a jacket, long pants, full-fingered gloves, over-the-ankle footwear, and eye protection. You may bring a helmet certified by the DOT or borrow a loaner from the training center. You may also borrow a training motorcycle or bring your own if it can be legally transported to class.
Completing the course requires passing a knowledge and skills test at the end of the course. Each test may be repeated once. If you pass, you receive a Motorcycle Safety Program Completion Card. This card, which is only valid for six months, means you do not later have to get a learner's permit, take the knowledge test, or take the skills test to obtain a motorcycle license MD.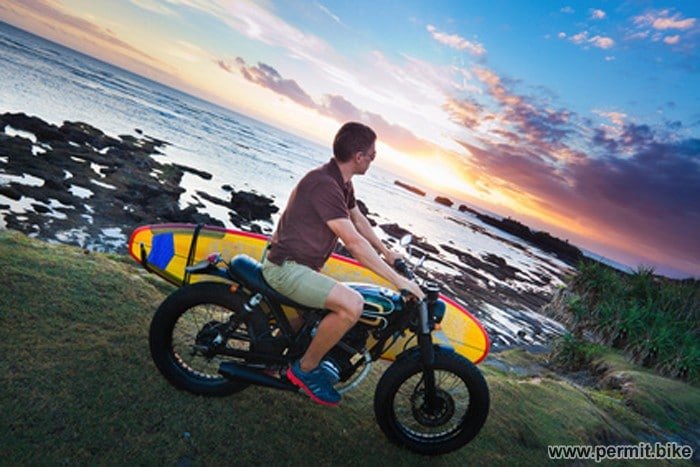 Graduated Licensing System
If you're getting first GLS license, such as if this is your first time driving any vehicle, then you need to obtain a Type I Learner's Permit for both Class C (noncommercial cars) and Class M, no matter how old you are. The permit requires completing a standard driver education program approved by the Maryland MVA that includes at least 30 hours of classroom instruction and 6 hours behind the wheel. In addition, you need to complete at least 14 hours of supervised driving behind the wheel. Three of the hours must be during the half hour before sunset and after sunrise.
If you want to add a motorcycle license to an existing Maryland driver license, then you need a Type II Learner's permit, regardless of your age, unless you have a valid Motorcycle Safety Program Completion Card.
To obtain either permit, you must visit an MVA full-service branch office. You must wear your glasses or contact lenses, if needed, or have completed a Vision Screening Form. If you're under 16, you need a Verification of Identity and/or School Attendance form. If you're 70 or older, you need a written statement from a physician attesting to your ability to drive.
You must then have your picture taken, pass a vision screening exam, and pass a test of driving knowledge. If you fail, you can return on a different day to try again. If you pass, you pay the required fee and receive the permit.
Obtaining the Motorcycle License MD
If you already have the Motorcycle Safety Program Completion Card, then all you have to do is to show the card and pay a licensing fee to get your class M license.
If you have a learner's permit, you must obtain a provisional license before you can get a full license.
If you have a Type I permit, you must hold it for at least nine month, have no convictions in that time, document at least 60 hours of supervised riding, and either pass a skills test or complete the Motorcycle Safety Program.
If you have a Type II permit, you must hold it for at least 14 days before you take the skills test and get the provisional license.
When you are ready to take the skills test, you can make an appointment online to take the test at an authorized center. You must bring the required documentation and a motorcycle. The vehicle must have at least half-a-tank of gas, and may be brought to the test site in a van or trailer, if it is unloaded in front of the examiner.
There is no fee for the initial skills test if you have a valid learner's permit. If you fail any part of the test and need to be retested, then you must pay a retest fee. Failing to show up for the appointment without an acceptable explanation or showing up over half-an-hour late may charge you a no-show free.
If you hold your provisional license for 18 months without any convictions, it automatically becomes a full license.

Permit.Bike is singularly devoted to the purpose of providing an easy-to-learn and simple approach to the act of riding.