How To Get a Motorcycle License in Massachusetts
One of the best ways to see the cultural, historical and natural landmarks that are so abundant in Massachusetts is by obtaining a motorcycle license. If you'd like to obtain a motorcycle license in Massachusetts, here are the steps you need to follow in order to be successful.
Obtaining a Motorcycle Permit
Before being issued MA motorcycle license residents must first hold a permit from the Registry of Motor Vehicles (RMV). To be eligible, you must be at least 16 years of age, and not have had any other licenses revoked. You must also provide documents proving your date of birth, signature, Massachusetts residency and Social Security number. Only original documents will be accepted. If you are under 18, you will also need consent from a parent or guardian on your application.
Application and Testing Information
After submitting the proper documents, you will then be required to pay a testing fee of $30. You must also pass a vision screening before being allowed to test.
The Massachusetts permit test consists of 25 questions, 18 of which must be answered correctly in order to pass. The test is given at all full service RMV locations during normal business hours on a walk-in basis. It is an automated, computer-based exam; however, a paper test may be given if you have a cognitive disability that would prohibit you from taking a computer-based version.
Permit Restrictions
A motorcycle permit in Massachusetts is valid for up to two years. While holding a permit, you may not carry other passengers or drive after dark. You must also wear protective gear, including a helmet and goggles or face shield at all times.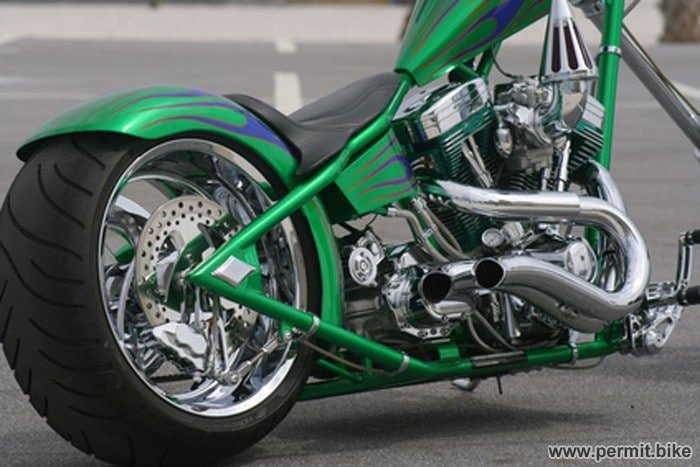 Applying for a License
To obtain a motorcycle license MA residents should hold their learner's permit for a minimum of 6 months. They should also be able to document at least six months' worth of "clean" driving prior to completing a road test.
To apply, you will need to contact the RMV phone center in order to schedule an appointment for your road test. You will also be required to provide your own motorcycle for use during the road test. This motorcycle must meet certain criteria, including:
• Being properly registered
• Being covered by insurance
• Having a valid inspection sticker
• Being in sound operating condition
You must also provide your own safety equipment for the road test, which includes a DOT-approved helmet, eyeglasses or goggles. If your motorcycle is outfitted with a windshield, eye protection is not needed.
The same documents you provided when applying for your permit must be produced again at the time you receive your motorcycle license. A $50 fee is also required unless you are simply adding a motorcycle endorsement to your existing license. In that case, the additional charge is only $15.
Massachusetts Rider Education Program
To receive a motorcycle license residents who are under 18 must show proof they have completed a Massachusetts Rider Education Program (MREP). There are nine safety schools that operate at 20 different locations throughout the state that are authorized to teach this course. A list of authorized training facilities can be found by visiting the RMV.
Adults may participate in the MREP as well. Those over 18 who successfully complete this course may present their certificate to the RMV within 90 days of completion. Doing so will allow them to become exempt from taking the actual road test.
The process for obtaining a motorcycle license in Massachusetts provides a way for drivers to become comfortable enough to operate safely. Practice is required in order to successfully complete either the written exam or road test and enjoy the benefits of being a licensed motorcycle operator.

Permit.Bike is singularly devoted to the purpose of providing an easy-to-learn and simple approach to the act of riding.