How To Get a Motorcycle License In Michigan
License Requirements & Classes
In order to obtain a Michigan motorcycle license you first must have a current valid Level 2 or Level 3 Michigan Drivers License. In addition, any drivers 16 or 17 years of age must show proof of having successfully completed a certified motorcycle safety course. Applicants 18 years and over must pass a written test, and either complete a road skills test or show proof of having successfully completed a certified motorcycle safety course. Active members of the military who are stationed out of state may obtain a motorcycle endorsement for their valid Drivers license in Michigan by successfully completing a Motorcycle Safety Foundation course. Contact the Michigan Department of State, Out of State Services Unit at 517-322-1743. An Enhanced drivers license is available which in addition to permitting the user to operate a motor vehicle, is also accepted in lieu of a passport when travelling to Canada, Mexico, Bermuda, and the Caribbean.
License Cost
The cost of obtaining a Michigan motorcycle license endorsement is $13.50. A $5.00 renewal fee is required when renewing your license. This is in addition to the renewal cost for your standard ($25.00) or enhanced ($45.00)drivers license. Drivers licenses are valid for 4 years from the date of issue.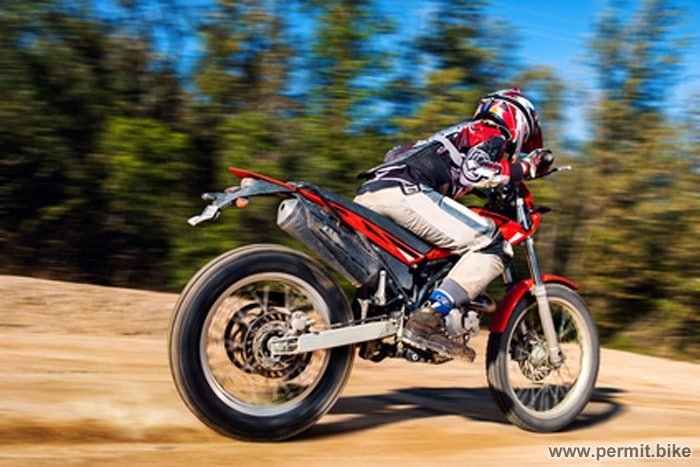 License Process
First time applicants (those with no current drivers license) must obtain a valid Michigan drivers license before being eligible to add a Michigan motorcycle license endorsement. You must provide documentation to establish the following-
> Social Security Status- Accepted documents are your Social Security Card, a W-2 Form, or a Letter of Ineligibility from the Social Security Administration
> Proof of US Citizenship (for enhanced licenses) Accepted documents are a US Birth Certificate, a US Passport, or an employment authorization card.
> Proof of Identity- Accepted documents are a Government Issued Photo ID Card, a US marriage certificate, or a passport.
> Proof of Michigan Residency- Accepted documents are a recent Credit Card Bill, a pay stub, or a copy of your automotive insurance policy.
Applicants are also required to pass tests involving vision, road signs, and written knowledge.
If you currently possess a valid drivers license from another state, or a license from another state that expired less than 4 years ago, the test requirements may be waived for transferring that license to a Michigan Drivers License. Contact your local Michigan Secretary of State office for information relevant to your specific situation.
Written Permit Test
The written portion of the tests covers such information as basic traffic laws, traffic signs and signals, and the safe operation of motor vehicles. If you fail the test, it is required to wait 1 day before retaking it.
Road Test
In lieu of a road test, drivers meeting certain requirements may instead present a certificate showing that they have successfully completed a Certified Motorcyle Safety course. Any driver under 18 years of age, or any driver over 18 years of age who have failed a road test 2 times previously must show proof of having passed a safety course before obtaining an original Michigan motorcycle license.
Any motorcycle used in the road skills test must be currently registered, have all required safety equipment in operational condition, and a helmet is required to be worn.


Permit.Bike is singularly devoted to the purpose of providing an easy-to-learn and simple approach to the act of riding.