How To Get a Motorcycle License in Minnesota
Minnesota residents who wish to obtain a motorcycle license have more than one option when it comes to getting one. Follow these steps to obtain your license so you can avoid the stiff penalties that could result from being charged with operating without one. These charges can include up to 90 days in jail and a $1,000 fine, in addition to the towing and impoundment of your bike.
Obtaining a Permit
The first step toward obtaining a motorcycle license MN involves being issued a learner's permit. This requires you to pass a written knowledge exam, which is based on information contained in the Minnesota Motorcycle/Motorized Bicycle Manual. After successfully passing the exam and paying a $21 fee, you will then be authorized to ride your motorcycle with certain restrictions:
• Carrying passengers is prohibited
• Riding must be performed during daylight hours only
• Operating on state highways and interstates is not authorized
• Protective head gear must be worn at all times
A motorcycle permit is good for up to one year. After that time, you may apply for a new permit by retaking the knowledge test and paying an additional $21 fee.
Skills Waiver/Third Party Testing
If you are at least 18 years of age, have a valid Minnesota driver's license, and have already obtained a motorcycle permit, you may obtain a license by completing a Basic Rider Course (BRC) at a Minnesota Motorcycle Safety Center (MMSC). Your instruction permit must not have been expired for more than one year in order to be eligible.
To successfully pass the BRC, 100% attendance is required. You must also pass the BRC skills test at the conclusion of the course. A number of classroom topics are covered, including risk management, special riding situations, street strategies and riding gear. The cost of the course is $160.
After successfully completing the course, you may then bring your certificate to an exam station to receive your motorcycle license MN. You will also be required to pay a licensing fee of $21.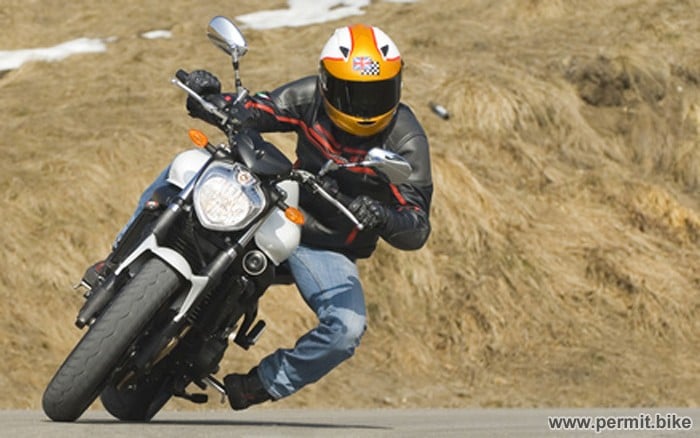 Visiting an Exam Station
Adults may also receive a motorcycle license MN by visiting an exam station during normal business hours. Certain exam centers are also open evening hours one day a week to allow you to take the skills test at a time that's more convenient for you. To receive your license in this manner, you must already have a valid Minnesota driver's license and motorcycle permit.
Under 18 Requirements
If you are under 18, taking the Basic Rider Course is required before you can be issued a motorcycle permit. Your requirements for passing this course are the same as for adult students. You must pay the course fee of $160, attend all class sessions from start to finish, and successfully pass a skills test at the end of your training.
After successfully passing the BRC, you will be given two certificates, which can then be taken to an exam station. One certificate will allow you to take the knowledge test needed in order to obtain your permit. The other certificate will allow you to take the skills test in order to receive your actual license. You must take this skills test, which is administered by an officer from the Department of Public Safety, regardless of the fact that you have already completed a skills evaluation to pass your BRC course. Your training certificates are good until your 18th birthday.
Renewal Information
After obtaining your motorcycle license, you need only renew your endorsement at the time your regular license is renewed in order to keep it current. Taking a knowledge test again is not required. The fee for renewing a regular license is $26.25, and renewing your motorcycle endorsement will cost an additional $13.00.
Motorcycle riding in Minnesota is one of the best ways to see the "land of 10,000 lakes." Follow these steps to obtain your license, and you too can enjoy the serenity and beauty Minnesota is so well known for.

Permit.Bike is singularly devoted to the purpose of providing an easy-to-learn and simple approach to the act of riding.