If you're an experienced rider, it might seem ok to get on your bike in jeans and t-shirt. Or it might seem acceptable for your passengers to wear flip flops, shorts, and tank tops. In reality, motorcycle accidents can happen to any rider, no matter how experienced. When this happens, your body has zero protection between itself and the road, your bike, or another vehicle. This is why it's important to have good gear for when you ride to protect your body.
The right gear will not only protect your skin, face, and muscles, but will also help protect you against the elements and inclement weather. Keeping yourself protected on your bike is important in case of an accident because you like your body, right? Help keep it protected—check out this gear that you absolutely need.
Helmet
Riders have different preferences when it comes to helmets. Some just prefer a half a helmet, others prefer full face, but regardless, your helmet needs to be DOT approved to be street legal. This means your helmet will need to have the trademark DOT symbol somewhere on it, so look for this when buying. Helmets that don't have the Department of Transportation seal of approval aren't worth your money or your safety, no matter how cool they look.
Regardless of your preference, full face helmets will be your best bet in the event of an accident. This is because they fully protect your head and face in case of a crash. Your head is most likely to be affected during a crash, so this is crucial. You should replace your helmet after every five years or so to ensure it meets safety standards and that the structure doesn't wear out from continuous use.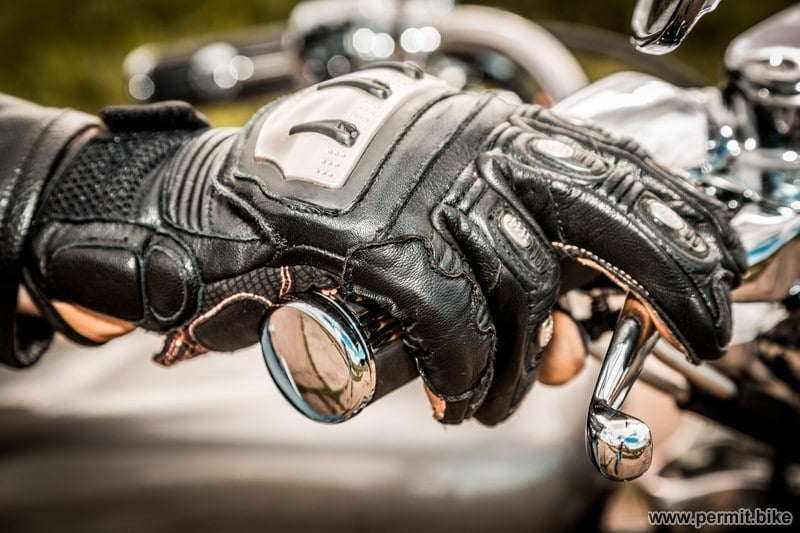 Gloves
The best riders wear gloves because they know how awesome their hands are. Our hands do so much for us! Smart riders also know that when an impact happens, the body's instinct is to put the hands out to break the fall or protect the face. If you value your hands, you should be wearing gloves.
Don't choose just any gloves you have sitting around—these gloves should provide quality material, fully cover your wrists, and even overlap between your wrists and jacket so as to not expose any skin. They should be properly padded over the knuckles yet allow you to ride in comfort. Ones that strap around the wrist are ideal. 
Proper Jacket and Pants
We all know you want to look badass on your bike, and who can blame you? But when it comes to proper gear, style shouldn't be your first choice. In fact, you should make a point to not choose your jacket and pants specifically on looks. Your jacket and pants should be comfortable yet safe. Choose a motorcycle jacket and pants that were designed to help protect you with the right padding and protection.
Look for a jacket and pants that include body armor to help absorb the impact in case of a crash. Your gear should fit snugly, just like your helmet should. However, it shouldn't be too tight. The right jacket and pants should help protect you should inclement weather roll in as well. 
The Right Shoes
Don't wear Chuck Taylors when riding your bike, because you'll look real silly. Also because, even though those high-top Chuck Taylors cover your ankles, they're not actually doing anything to protect them. You need proper ankle protection because if your bike goes down when you're on it, your feet are right in the way and can easily get damaged.
Protect your feet, ankles, and toes with sturdy boots. They don't necessarily have to be boots made specifically for motorcycle riding, but these might be a good choice if you're a first-time buyer. You should still be able to easily shift gears in them and they should offer non-slip soles with good ankle support for your ride. 
Your gear is more than just a fashion "I am motorcycle rider" statement. It's about protecting you and your body from any potential accidents. This also includes your passengers. Keep this in mind before you don your casual gear to go for a quiet ride. Remember that motorcycle accidents can happen to anyone, and protect yourself with some quality gear for your ride.

Permit.Bike is singularly devoted to the purpose of providing an easy-to-learn and simple approach to the act of riding.