How To Get a Motorcycle License in West Virginia
West Virginia's winding mountain roads are an ideal location for a relaxing day on a motorcycle. In addition to the state's many attractions, area residents are also well positioned for motorcycle trips to the beach, numerous National Parks and other regional destinations. However, to safely and legally enjoy riding a motorcycle in West Virginia, residents need to complete the process to obtain a motorcycle license.
License Classes
West Virginia residents have two options for obtaining a motorcycle license: obtaining an endorsement on their existing driver's license or obtaining a motorcycle only license. The endorsement on a regular license is referred to as an 'F' endorsement, while a motorcycle only license is referred to as an 'F' license. Drivers can also receive a motorcycle instructional permit which will allow them to ride a motorcycle for 90 days to gain the experience and knowledge needed to obtain a West Virginia motorcycle license. Riders using an instructional permit may only ride during daylight hours and are not allowed to ride with a passenger on the bike.
License Requirements
To obtain either an endorsement on his or her existing license or a standalone motorcycle license, a driver must take and pass both a written test and a road test to prove his or her proficiency in operating a motorcycle. Alternatively, a driver can pass the written test and then complete a state approved motorcycle training course. Those who take and pass these courses are exempt from completing the motorcycle road test. A driver only needs to pass the written test requirement in order to obtain an instructional motorcycle permit. However, drivers under the age of 18 must have obtained a level II graduated driver's license before obtaining a motorcycle permit. Instructional permits for those who are under the age of 18 will not expire until 30 days after the person reaches the age of 18.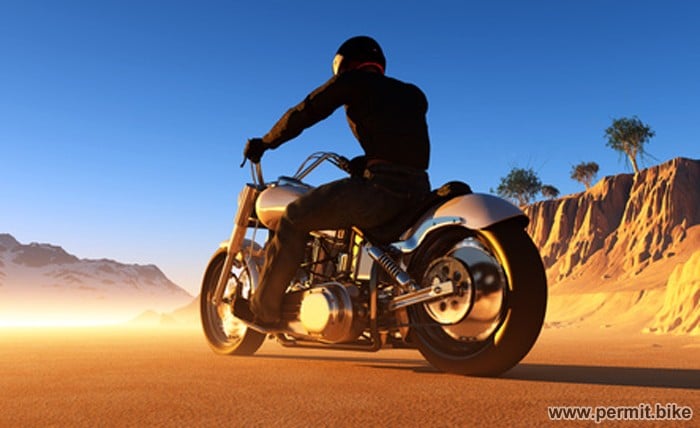 License Cost
There is no charge for license testing in the State of WV, however, the motorcycle training courses approved by the State of WV cost $100. The standard five year driver's license in West Virginia costs $12.50. The instructional permit for a motorcycle costs $5. It cannot be renewed although a driver may apply for a new permit when the old one expires.
License Process
To obtain a West Virginia motorcycle license, a driver should obtain Motorcycle Operator Manual from the WV Department of Motor Vehicles and study the manual to learn about the basics of riding a motorcycle safely. The driver will then need to go to a local DMV office and take both the written part of the motorcycle test and the skills test. DMV offices offer written tests on a daily basis, but road skill tests are only conducted on certain days and time. Those needing to complete a skills test will need to contact their local DMV office to determine when the tests are available.
Written Permit Test
The written test to obtain a West Virginia motorcycle license covers a number of driving topics including normal traffic and safety procedures, which are common to driving both cars and motorcycles, as well as material dealing more specifically with motorcycles, such as driving on rough surfaces. Examples of test questions on the written test include how to deal with obstacles in the road, taking defensive driving measures and questions regarding driving laws and citation penalties. The test is administered in a multiple choice format.
Road Test
The motorcycle road test includes demonstrating the ability to complete a number of different riding skills. This includes safely stopping and starting, obeying traffic rules, adjusting to traffic and performing swerves safely. The testing examiner will follow the person being tested in another vehicle where he or she can fully observe the movements of the motorcycle. Road tests may be conducted in a closed parking lot or other area or on a street or highway.

Permit.Bike is singularly devoted to the purpose of providing an easy-to-learn and simple approach to the act of riding.