How To Get a Wisconsin Motorcycle License
Recreational motorcycle riding can be a lot of fun, but it is important to make sure that you have the proper licenses and pass all necessary tests for your jurisdiction. In the United States, each state has a unique set of rules and requirements. In this article, you will learn about the motorcycle requirements for the state of Wisconsin. Keeping abreast with the proper fees is also important to make sure that you can proceed through the license process as fast as possible.
Mopeds vs Motorcycles
One of the first things to know about Wisconsin motorcycle law is the distinction between a motorcycle and a moped. Mopeds do not require a class M motorcycle license. Instead, moped riders need a class D license. In Wisconsin, a moped is defined as a vehicle that will not travel faster than 30 miles per hour with a 150 pound rider. It must have a seat and a power source. Bicycle-style mopeds with pedals need to have an engine certified at 130cc by the manufacturer. Motorcycle-style mopeds, without pedals, need an automatic transmission and an engine that is certified at no greater than 50cc.
Instruction Permit
Before getting a class M Wisconsin motorcycle license, you need to get an instruction permit. In turn, the permit necessitates a written test, a roadsigns test, and a vision test. Applicants must be legal residents over the age of 16, and are required to pay a $32 fee to apply for the permit. Applicants under 18 need a sponsor, proof that they completed a driver's education course, and proof of completion of a motorcycle rider course. Permits are valid for a period of six months from issuance. During that six month period, the permit holder needs to complete a motorcycle skills test in order to graduate from the permit to a full license. Permits can be renewed, but only twice- renewals after that require special permission from the Department of Transportation. This is to force applicants to move on to the skills test. Permit holders face special restrictions: they must always wear eye protection and a certified helmet, and after sunset, the permit holder must have a companion aged 25 or older who has two or more years of licensed driving experience as well as a full motorcycle license of their own.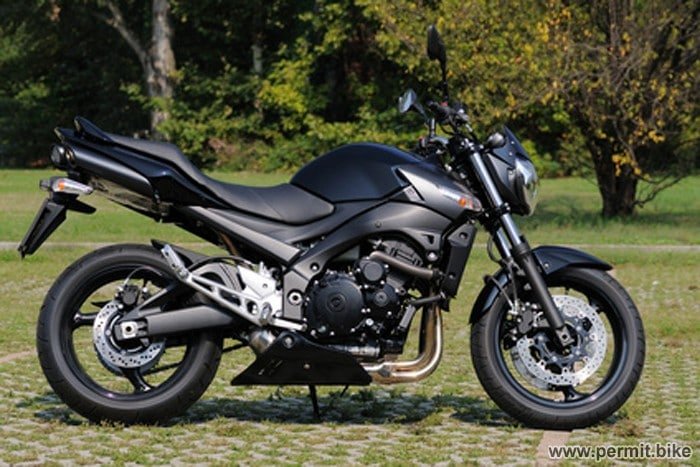 The Skills Test
The skills test is a critical part of the qualifications for a Wisconsin motorcycle license. The test itself has a fee of $15. The test is only offered by appointment at services centers of the Wisconsin Department of Motor Vehicles. The test taker needs to supply their own motorcycle as well as eye protection and headgear. The course that qualifies individuals for a class M license is the Basic Rider Course 1. There are versions of the Basic Rider Course for 3 wheeled vehicles and scooters- any of the three is sufficient for a class M license. The Department of Transportation offers many different ridership courses, both general and specialized, for both new and veteran riders. Passing the Basic Rider Course fulfills the requirements for the full license and can also take demerit points off your license once every five years. Applicants with a permit can instead elect to pass the Motorcycle In Traffic course.
The Class M License
The full license costs an additional $22 for the first license and $18 for each eight year renewal. The license has no limits on companion riders after dark, the way the permit does. Furthermore, if you took the Basic Rider Course to qualify for the license, you may automatically be eligible to get up to three points taken off your license if you violate traffic laws during your first year riding with the license. A class M license is a full Wisconsin motorcycle license – they are not temporary or transitional. Getting a class M license also makes you eligible for a special course called the Advanced Rider Course. The Advanced Rider Course has more in-depth treatment of rider skills with about seven hours of classroom and riding time. This is optional, but may provide riders with crucial knowledge about crash avoidance and other skills.


Permit.Bike is singularly devoted to the purpose of providing an easy-to-learn and simple approach to the act of riding.