Obtain a Motorcycle License in Wyoming
Do you wish to experience the beautiful mountainside and winding roads on two wheels instead of four? If so, you may be thinking about getting a Wyoming motorcycle license. Luckily, getting licensed to ride your motorcycle is simple. However, there are a few steps you must take to register your bike properly and show that you have the required skills needed to ride safely.
Learning to Ride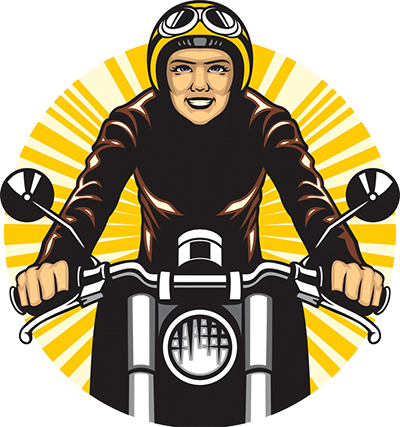 Before you begin any of the licensing or registration process for a motorcycle, you must have the skills to do so. The Motorcycle Safety Foundation designed a course that many states, including Wyoming, offer to prospective riders. There are two courses: Basic Rider Education Course and Experienced Rider Education Course.
Basic Rider Education
This course is for novice riders and will cover basic concepts and include classroom and on-bike training, generally offered on weekends. As a bonus, since practice motorcycles are provided, if a prospective rider finds out that he or she is just not cut out for a motorcycle, no money is wasted on a bike that would never be used.
Experienced Rider Education
This course is for riders with experience riding a motorcycle and a solid knowledge of how to shift gears and handle their bike. While unnecessary, this course is an excellent way to gain more understanding and become a safer and more comfortable rider.
License Requirements
Once you have learned the necessary skills for how to operate a motorcycle, you will need to do the following to become licensed:
supply identification
Pass a written exam
Pass an on-bike skill test
Pay $3 for the "M" class endorsement
The documents needed to register a motor vehicle are those needed for motorcycles. To get a Wyoming motorcycle license, You will need to bring a copy of the title, current registration from your previous state (if applicable), a lease agreement or proof of mortgage payment to prove your Wyoming residency, proof of insurance, proof of Social Security Number (SSN) and pay all required county and states taxes and fees. Suppose you have recently gotten married, divorced, or changed your name for any reason. In that case, you must provide proof via a marriage certificate, divorce decree, or any other legal paperwork that validates your name change. Remember that while Wyoming allows up to one year for drivers to get a license after becoming a resident, several states require the immediate need for license transfer. These include
Michigan
Georgia
Massachusetts
Wisconsin
Tennessee
It is probably best to contact your local Department of Motor Vehicles branch to verify how long you have to get a Wyoming motorcycle license if you are a new resident. It will be necessary to re-take all exams if your current license has become invalid or expired.

Permit.Bike is singularly devoted to the purpose of providing an easy-to-learn and simple approach to the act of riding.