Getting A Motorcycle License In Washington DC
There are many people living in the Washington DC area who want to use a motorcycle to get around. This will require them getting a DC motorcycle license from the Department of Motor Vehicles (DMV). A person must posses a valid driver license with a motorcycle (M) endorsement on it to legally operate a motorcycle in the District of Columbia.
Motorcycle Under Washington DC Law
A motorcycle is defined as a motor vehicle with a seat or saddle for use by the operator. It has two or three wheels designed to be in contact with the ground. A tractor, motorized bicycle or motor driven cycle are not considered motorcycles under Washington DC law. The exception is if these vehicles are able operate at speeds of over thirty miles an hour. A three-wheeled motor vehicle that has a cab and windshield may be considered a motorcycle.
Motorcycle Operation Requirements
The District of Columbia DMV guidelines state that any person who operates a motorcycle must have a Class M motorcycle license or a motorcycle instruction permit. Any person who applies for a Class M motorcycle license must be 18 years old or older. They need to have a valid Washington DC driver's license. Passing a motorcycle knowledge test is required. They must also pass a sign test and undergo vision screening. The last step is to successfully pass a motorcycle skills test. They will have to demonstrate their competency in operating a motorcycle.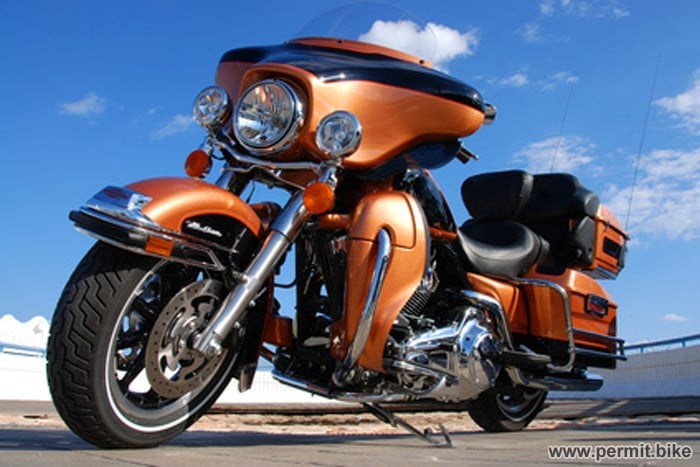 Motorcycle Learner's Instruction Permit
The first step in obtaining a DC motorcycle license is to get an instruction (learner's) permit. To get this permit, a person must complete an application form. It must be an original. No photocopies are permitted. An individual must then submit their valid driver's license. They must pay an application fee. The knowledge test for motorcycle operation must then be passed. This permit will enable a person to legally drive a motorcycle for up to a year in Washington DC before taking the exam. A person with an instruction permit cannot drive on highways. They are not permitted to drive during the evening hours. They can not operate a motorcycle with any passengers.
Skills Test Waiver
The DMV in Washington DC will waive a motorcycle skills test and automatically issue a class M motorcycle license if a person has successfully finished an approved basic motorcycle rider safety course. The course must have been completed within the previous six months. The motorcycle safety course must be approved by the states of Maryland, Virginia or Washington DC. The DC motorcycle license courses may take from two to six weeks to complete. This course will involve classroom instructions and also driver training. The driver training portion will be conducted in a controlled environment that is off-street.
Motorcycle Operator Manual
Passing the written motorcycle license exam will require learning what is required for the exam from the motorcycle operator manual. It contains information concerning the right gear to wear, responsibilities of operating a motorcycle, keeping distance, handling difficult surfaces and more.
Written DMV Motorcycle Test
All individuals who apply for a motorcycle license at a DMV in Washington DC are required to pass a written motorcycle test. This will cover traffic signs, safe motorcycle driving techniques and motor vehicle laws. If a person fails the written test, they may be required to wait until the next day to take the exam again. They will be charged a re-examination fee. It is important to take time and study for the exam. There are practice tests available.
Motorcycle Test Paperwork
When a person goes to the take their DC motorcycle license test a a DMV in Washington DC, they must provide specific documents. Many people call the DMV yo arrange a test time and learn what documents they will be required to present. They will need to have a copy of their birth certificate. They will have to show a current and valid driver's license and instruction permit. An individual must show their passport. If the person is active duty, retired or reserve military, they may be required to show their military ID card. They will need to show their social security number. They may need documents from a court of record. If married, a marriage certificate may be required.
Class M Endorsement
Once a person has passed the written exam and road test, they can have a Class M endorsement added to their driver's license. This will also happen if they've passed an approved basic motorcycle rider safety course. It is important that individuals operating a motorcycle realize it takes practiced skill and knowledge to do it safely. They must know their limitations as well as the motorcycle's limitations. A person must also understand the requirements of the environment where they operate their motorcycle.
Helmet Use
Using a helmet while operating a motorcycle is required by law in Washington DC. It has been proven to decrease the seriousness of injuries. It lowers the chances of death in the event of a crash.


Permit.Bike is singularly devoted to the purpose of providing an easy-to-learn and simple approach to the act of riding.