How To Get a Motorcycle License in Arizona
The weather is perfect. Sunny and warm with a nice, cool breeze – what better to do on a beautiful day than hop on a motorcycle and cruise the town? Several people in Arizona would love to be able to take a relaxing ride, but aren't sure how to go about getting their motorcycle license. The process of obtaining an Arizona motorcycle license isn't a difficult one.
The first step towards receiving a motorcycle license is to get a motorcycle instruction permit. Also known as a learner's permit, it allows the individual to legally drive a motorcycle – with specific restrictions – in order to practice and gain experience riding.
If an individual is under the age of 18, they are required to obtain an instruction permit before applying for a full license.
To get an Arizona motorcycle instruction permit:
-Individual must be at least 15.5 years old
-They will need to apply at their local Motor Vehicle Department (MVD) office
-Pass the written test about traffic laws, street signs, and other driving skills
-Pass a vision test
-In the case that the individual doesn't have a current general driver's license or permit, they will also need to pass a written driver licensing test
-Pay the permit fee of $7
The permit to drive a motorcycle is valid for 7 months and may be renewed once in a time period of 24 months. During this time period, the individual will be required to complete a motorcycle training course approved by the MVD, or a minimum of 30 hours of riding time in order to obtain their full Class M Arizona motorcycle license.
When a driver possesses only an instructor permit and not a full license, there are certain limitations that go along with it. The individual is required to be supervised by a licensed driver – whether on another motorcycle or in a car – and whom must keep the new driver in their sight at all times. These are also additional restrictions which include:
-Absolutely no driving on freeways or interstate highways
-No carrying passengers
-No driving during the evening/night or during any time when there is not enough light to see vehicles or other objects from a distance of 500 feet.
If an individual is a new resident to Arizona, and they hold a current motorcycle license from another state, they can trade in that license for an Arizona one. They won't be required to follow instruction permit restrictions, or take driver's education or driving practice. Depending on whether the previous state's skills test is similar to Arizona's, the individual may not be required to take the skills test – though they should be prepared to.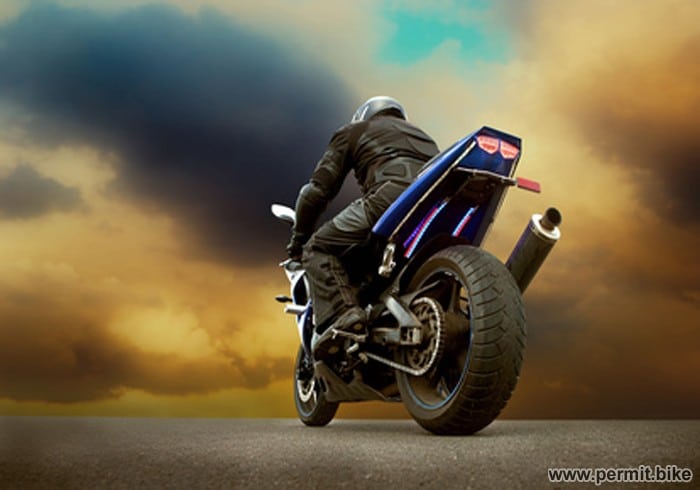 Applying for an Arizona Motorcycle License
The minimum age to apply for a motorcycle license is 16.
Individuals under the age of 18 must:
-Have held, for at least 6 months, a valid Arizona instruction permit
-Pass a motorcycle driver education program approved by the MVD OR have a parent or guardian certify that they completed a minimum of 30 hours worth of practice riding a motorcycle.
All applicants must:
-Pass a written basic knowledge test
-Pass a skills test riding a motorcycle
-Pass a vision test
-Pay the licensing fee, depending on the age of the individual
16-39 years old – $25
40-44 years old – $20
45-49 years old – $15
50 years old and up – $10
Motorcycle Endorsement – $7
Instruction Permit – $7
Additional Information
-If an individual's motorcycle is less than 100cc, their license will be a restricted J license, meaning they are not permitted to drive on interstate highways.
-An individual may apply for an Arizona motorcycle endorsement. This is when a Class M license is combined with other types of licenses, besides the basic driver's license, and is then considered an endorsement added to the back of the individual's current license.
-The Arizona On-Cycle Skills Exam is an assessment of a person's skills riding a motorcycle. The individual will need to display basic control, safety measures, and certain maneuvers.
When they take the exam, they should also bring along:
-DOT-approved helmet
-Gloves
-Proper clothes such as jeans and a jacket
-Protective footwear
-Protective eyewear
Motorcycle Operator Manual
The MVD provides the Arizona Motorcycle Operator Manual, which helps prepare for tests. It outlines the traffic laws, motorcycle skills, and safety tips. Reading through the manual will give the knowledge needed to ride as safely as possible. Having all necessary information and documentation when applying for an Arizona motorcycle license, and being prepared for the exams – gives the greatest chance of success.
-Motorcycle Safety Foundation (MSF) is a motorcycle training course for riders of nearly any level of experience. The Basic RiderCourse teaches the basics of operating a motorcycle, and how to make good decisions when riding.

Permit.Bike is singularly devoted to the purpose of providing an easy-to-learn and simple approach to the act of riding.