How To Get a Motorcycle License in Arkansas
In addition to passing a written exam and road test, you also must use the proper safety gear and have an equipment-compliant motorcycle in order to obtain an Arkansas motorcycle license. This article contains descriptions of the license classes, requirements and the process of obtaining the license. It also contains information about the written permit test, road test, and additional requirements by the military for their personnel.
Two License Classes – There are two classes or types of motorcycle licenses in the state of Arkansas. To operate a motorcycle without restriction on public roads, the Class M license is for persons over the age of 16 years who have previously held an instruction permit showing successful completion of vision, practical skills, and knowledge of road signs. Persons 14 to 16 years of age may obtain a Class MD restricted motorcycle license, which means they cannot carry passengers and are only permitted to drive motorcycles displacing up to 250cc.
License Requirements – The requirements to obtain an Arkansas motorcycle license has additional requirements to those required for operating a car.
To operate any vehicle, an individual may obtain a license if these basic requirements are met:
• You must be at least fourteen years old to obtain a restricted license.
• You must be at least eighteen years old to obtain a non-restricted license.
• You must submit proof of name, residential address, and date of birth.
• You must pass a written motorcycle driver test.
• You must legally reside within the United States.
• You must not have been judged by a court to be mentally incompetent, a habitual user of illegal drugs, or an alcoholic.
• You must not be currently under any suspension, revocation, or denial in part or whole by Arkansas or any other state, or one year has passed since any revocation.
• You must have no judgments pending for any moving traffic violation.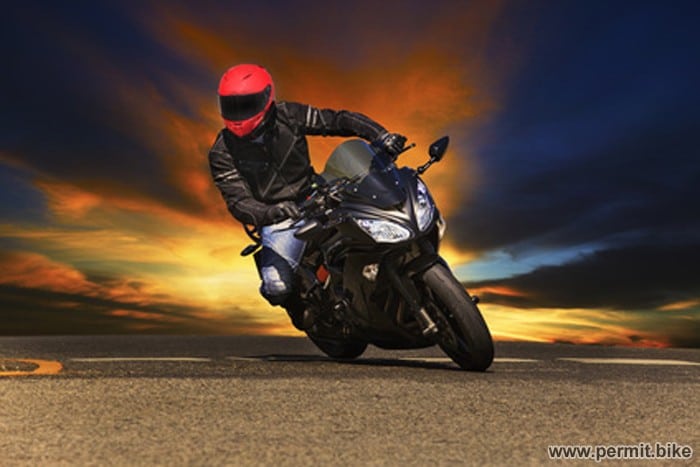 If you are under the age of eighteen, you must also:
• submit a current school attendance form or other appropriate documents from your school,
• possess a signed parental or guardian consent form, or
• submit a valid driver license issued by another recognized licensing authority.
Additional requirements to obtain an Arkansas motorcycle licenses are:
All drivers and passengers are required to wear transparent eye protection such as goggles, a face shield, glasses, etc.
Drivers and passengers under 21 years old must wear helmets.
Both the headlight and taillight must be on whenever the motorcycle is running.
The motorcycle must have footrests and handholds for passengers and not carry more than one passenger per vehicle.
License Process – Gather the required documents for personal identification. These include at least one photo identification and either two primary documents or one primary and one secondary document. After you obtain a permit to practice, study the driver manual. Make sure your motorcycle is in compliance and you have the proper gear to wear. Take the written test. Once you have passed the written test, you can take the driving test.
Written Permit Test – Through a series of multiple choice questions, the written test measures the applicant's knowledge of traffic laws, signs, signals and safety procedures for operating the motorcycle in various conditions and in different traffic zones.
Road Test – During the road skills test, the driver examiner will be measuring the applicant's ability to properly and legally operate the vehicle in areas such as being familiar with all controls and maintaining proper control of the motorcycle. You must obey all traffic laws and keep a proper lookout for pedestrians and other vehicles, adjust to special driver situations such as school and construction zones. This includes obeying all traffic signals and signs and speed limits, as well as using windshield wipers, headlights, and proper lane use. Motorcycle applicants must also be wearing the additional required gear and have a properly equipped vehicle.
Military Personnel Exceptions – Military regulations require additional compliance for an Arkansas motorcycle license and in other states, especially when it comes to the wearing of safety gear such as eye protection, footwear, increased visibility, and bags and gear. Their guidelines apply while on and off duty, on or off base, and are in addition to each state's requirements. Though similar, each branch has its own guidelines. The military requires strict adherence to its motorcycle driving regulations. In the event of an accident, failure of the motorcycle driver or passenger to have observed all safety requirements may result in denial of paid benefits to the driver or their survivors. Check with your base commander's office for current military guidelines on motorcycle driver requirements.

Permit.Bike is singularly devoted to the purpose of providing an easy-to-learn and simple approach to the act of riding.