How To Get a Motorcycle License in Connecticut
If you want to drive a motorcycle in Connecticut, you will need the right license. Just having a license to drive a car is not enough in this state. Obtaining a CT motorcycle license will help you stay within the limits of the law while riding safely, so here's a look at the steps you will need to take.
Consider Applying for a Permit First
Getting a motorcycle permit months before applying for a license in Connecticut is not necessary, but it is highly recommended because it will enable you to legally practice riding the bike for 60 hours before you get a license. Plus, if you don't get the permit ahead of time, you will end up having to get it when you apply for a motorcycle license anyway. To get a permit ahead of time, you will first need to be at least 16 years old and have a regular driver's license that's valid in this state.
If you are under the age of 18, make sure you bring a Certificate of Parental Consent that has been signed by your parents or legal guardians in front of a notary before you go to the DMV. In addition, you will need to fill out a Non-Commercial Driver's License form.
At that point, you will need to take the knowledge test for driving a motorcycle. You can improve your chance of passing it by studying the motorcycle and general driving manuals for this state. The fee for the written exam is $40, and this includes a vision test before you can get the permit. There is also a $16 permit fee that you will need to pay if you do pass both tests. Note that most DMV locations accept cash, personal checks, money orders, and credit or debit cards with the Visa, MasterCard, or Discover logo.
Before you start using the permit to practice riding your motorcycle, you should know its limitations. For example, it is only valid in this state, during daylight hours. You cannot use limited access highways or carry passengers on your bike while you only have the permit, and you will have to wear both a helmet and some type of wind screen, glasses, or goggles to protect your eyes while you ride. If you ignore these rules, you risk having your permit taken away.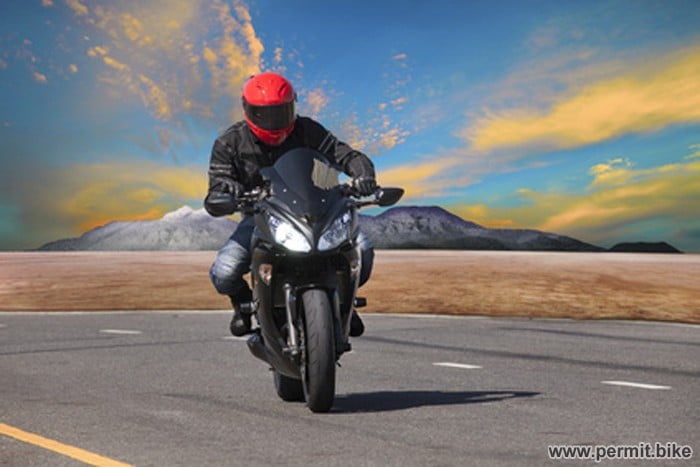 Apply for a License
If you have a motorcycle permit, you can get a CT motorcycle license by taking that permit – as well as your regular driver's license – to the DMV. You will also need proof that you took a course on motorcycle training, at which point you will need to pay $30 for the DMV to place an M endorsement on your license.
If you do not have a motorcycle permit and wish to apply for a CT motorcycle license, you will need to complete the same steps as permit applicants do. This means you should show up at the DMV with your regular driver's license, a Non-Commercial Driver's License form, and a Certificate of Parental Consent if you are not yet 18.
You will also need $40 to cover the knowledge and vision exams and $16 for the permit. You will then take the exams and enroll in a course that will teach you motorcycle safety. Once you are done with the course, you can return to the DMV to show proof that you have completed it and want to get an M endorsement for your driver's license.
Get Help Meeting the Requirements for the CT Motorcycle License
You won't have to take a driving skills test on the road when you apply for your motorcycle license in this state. However, you will need to complete a training course that is approved by the CT DMV. This is where you will learn the rules of the road when it comes to motorcycles. The course you take will be for beginners, but you can always take additional courses for intermediate and advanced riders if you want to feel extra prepared to ride.
If you are more worried about passing the written exam, make sure you carefully study the manual provided by the DMV. You can also take the Connecticut State Motorcycle Endorsement Practice Test, which you will find online. This should give you some confidence going into the written test, which can save you time and money. That's because if you fail it the first time, you will have to pay another $40 to take it again.
This should be all you need to know to get a motorcycle permit or license in Connecticut. However, if you have any other questions about the process, be sure to call your local DMV for the most updated information.

Permit.Bike is singularly devoted to the purpose of providing an easy-to-learn and simple approach to the act of riding.