Illinois Motorcycle Permit Test
Licenses for vehicle operation in Illinois call for a variety of application materials, tests, and eligibility requirements. To operate a motorcycle in the state of Illinois, a driver must possess a valid license designed for the type of motorcycle a driver expects to operate.
License Classes
Motorcycle driver's licenses in Illinois are classified according to their type and weight. A motorcycle with less than 150cc displacement requires a Class L license. Any motorcycle with a motor-driven cycle requires a Class M license.
However, a moped may not require an Illinois motorcycle license if it meets certain criteria. Those criteria include speed requirements, a motor with 2 brake horsepower or less, a power drive system that doesn't require gear shifting, and an internal combustion engine with no more than 50cc displacement.
License Requirements
Applicants age 16 or 17 must complete a motorcycle training course approved by the state's department of transportation. An instruction permit valid for 24 months will be granted to drivers who pass the motorcycle written test and complete a driver education class.
New drivers age 18 and above may bypass the written and driving examinations by taking a Rider Education Course. The permit for drivers 18 and above lasts for 12 months.
Permit riders can only ride during daylight hours and must only operate licensed motorcycles under the direct supervision of a fully licensed driver age 21 or older who has at least one year of driving experience.
License Cost
License fees in Illinois vary for different services and motorcycle driver's licenses are $10 for a first-time licensee or upgraded license for M or L classification. Renewal licenses for M or L classification cost $5. Suspended licenses may also require added fees. For example, one statutory summary suspension requires payment of $250 to reinstate a license.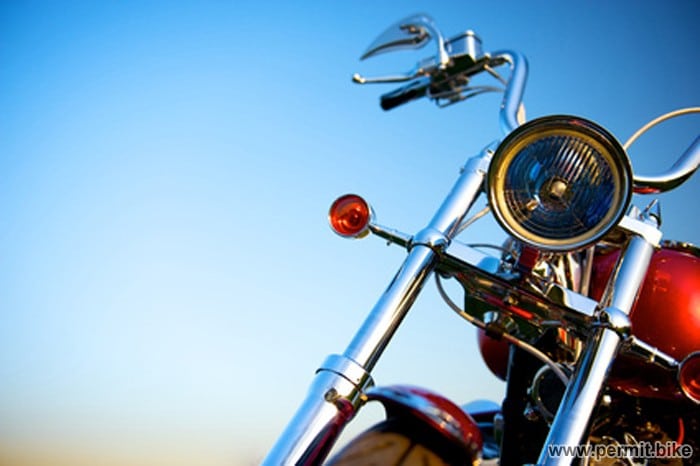 License Process
Applicants must provide several forms of identification that are designed to prove legal name, in addition to four other types of identification. Documents that prove written signature, social security number, date of birth, and residency must be provided.
The State of Illinois provides an extensive list of acceptable documents in its Rules of the Road publication. Documents must not be copies and must not be expired. Proving written signature, date of birth, and social security number requires one document for each. Proving residency requires two documents.
Unacceptable documents include items like business cards, college identification cards, fishing licenses, and various commercial membership cards like those used at gyms or exercise facilities.
Applicants for an Illinois motorcycle license who do not already hold a valid state driver's license must also pass a vision test, a written exam, and a driving exam. These tests require fees, and cannot be administered unless an applicant brings all required types of identification.
Written Permit Test
The basic written examination for a motorcycle license in Illinois requires that test takers identify various traffic signs and be able to know what their shapes, colors, and symbols mean. Test takers must also be able to identify signals, as well as pavement markings and rules of the road like traffic laws and safety rules.
The test is multiple choice and also includes true/false questions on topics related to motorcycle safety, operation, and crash prevention. For example, test takers may be asked how to swerve correctly and be given four multiple choice answers.
Road Test
Administered by the Secretary of State's office, the rider skill is required for Class L and Class M motorcycle licenses. The exception to this requirement is if a driver is age 18 or above and has completed the motorcycle training course.
The rider skill test helps measure a driver's handling skills and is conducted in a paved area with lines painted on the surface. Equipment must be checked before the examination. Exercises that must be mastered during the skill test include cone weaving, normal stopping, turning from a stop, and making a U-turn.
Additionally, drivers must be able to perform a quick stop, as well as avoid obstacles by successfully swerving with the bike. The state also conducts three-wheel and four-wheel rider skill tests that require mastery of the same exercises. Stalling the engine four times during the rider skill test is an automatic failure.
According to information from the state government of Illinois, there are almost 356,000 licensed motorcycles on the roads in Illinois. To help new riders qualify for licensure, the state provides an essential motorcycle operator manual.

Permit.Bike is singularly devoted to the purpose of providing an easy-to-learn and simple approach to the act of riding.