How To Get a Motorcycle License in Georgia
The state of Georgia has enacted strict requirements for those wishing to operate motorcycles. To obtain a motorcycle license GA residents must be able to demonstrate their knowledge of the law and proficiency in handling. Here are some things anyone wishing to apply for a motorcycle license in Georgia should know.
Basic Requirements
There are a few basic requirements that must be met before one can be granted a motorcycle license. Individuals must be at least 16 years of age, and a United States citizen or legal resident. This will require applicants to submit certain documents, which can include all or some of the following:
*Social Security card
*Original birth certificate
*Passport
*Legal documents showing name change
*Military ID card
*Property tax records
Once all the documents have been verified, the applicant will then be given a vision screening, unless he or she has already passed one to obtain another Georgia driver's license within the past year. A thumb print will also be taken, unless one is already on file.
Additional Requirements for Minors
To obtain a permit or motorcycle license in Georgia minors must complete some additional steps, including:
*Obtaining written parental permission
*Completing a 30-hour Georgia driver's education course
*Finishing a certified Georgia Behind the Wheel Program if age 16
*Submitting a form DS-1, Certificate of Attendance, showing proof of school enrollment (including homeschooling). A high school diploma or GED can be submitted in lieu of this form if applicable.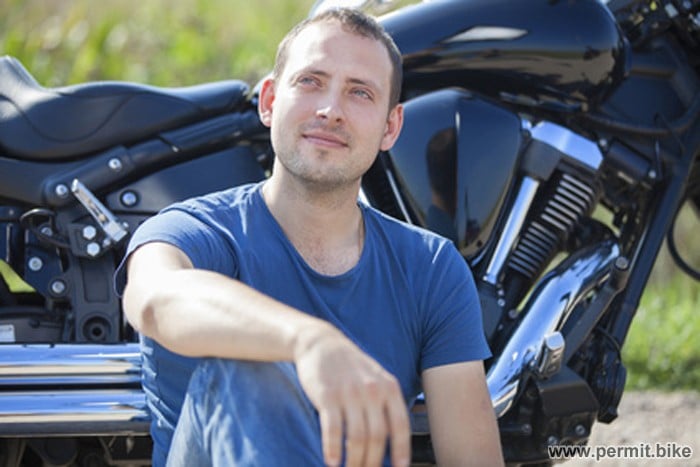 Obtaining a Permit
After paying the required application fee, individuals will then be allowed to take the written Motorcycle Knowledge Exam. Questions on this exam are taken directly from the Georgia motorcycle manual, and will include questions on safety and traffic laws.
Upon passing the exam, a motorcycle permit will then be granted. To obtain a motorcycle license GA residents must hold this permit for a minimum of six months. The permit is good for a maximum of two years, after which time it must be renewed.
A Georgia motorcycle permit will allow riders to perfect their skills under certain conditions. Those holding a permit are not authorized to ride on the highway, operate at night, or carry other passengers.
Motorcycle Safety Program Basic Course
To speed the process of obtaining a motorcycle license GA residents may also elect to take a Motorcycle Safety Program Basic Course. Upon successfully passing this course, applicants can then waive the amount of time a permit is required to only 90 days. Completing the program also eliminates the need to take a formal driving test provided by the Department of Driver Services (DDS). The course consists of five hours of classroom time and ten hours of riding instruction, which is completed over the course of several sessions.
Driving Exam
Those who do not complete a safety course must take an actual driving exam administered by DDS. Applicants must furnish their own motorcycle and safety gear for test purposes. Before being allowed to take the test, the equipment will be thoroughly inspected by an examiner from the Department of Driver Services. Tests must be scheduled in advance, and will not be administered when raining.
Driver's License Cost
The cost of a motorcycle license in Georgia is actually very affordable, as the cost of a five-year license is only $20 and a ten-year license is $35. This fee is in addition to the cost of any other driver's license an individual may possess. Obtaining a motorcycle permit will initially cost $10, and that cost is not applied toward the price of an actual license.
Obtaining a motorcycle license in Georgia is not a simple process, especially for those under 18. However, once the process is complete, individuals will only have to pass a vision screening and pay the required fee in order to renew. As such, a rider's efforts will pay off with long term enjoyment for years to come.


Permit.Bike is singularly devoted to the purpose of providing an easy-to-learn and simple approach to the act of riding.