How to Get a Motorcycle License in Hawaii?
Obtaining a motorcycle license in Hawaii does not have to be a burdensome process. The following will outline requirements, steps and preparation in obtaining your motorcycle license in Hawaii quickly and easily.
License Requirements
Before applying for your motorcycle license, it is important to note the legal requirements for obtaining a license, as is dictated by Hawaii state law. According to the DMV, you must meet the following general requirements in order to qualify:
Be at least 18 years of age or have permission from a parent/legal guardian if between the ages of 15 and 17
Have successfully completed a driver education course and driving skills course
Be able to provide proof of identity, legal presence, social security number, and residency
Once all of this has been verified, you will be ready to move on to the next step, which is to successfully pass and complete all testing requirements.
Testing Requirements
The testing requirements for a motorcycle license in Hawaii are broken into these four categories:
Vision
Sign and Road Marking Identification
Written Exam
On-Road Skills Test
Vision
In order to protect yourself and others on the road, it is imperative that you have adequate vision while operating your motorcycle or any type of large machinery.
Sign and Road Marking Identification
This test expands upon the vision test by testing both your general knowledge of signs and road markings as well as your ability to identify different colors as they relate to these signs and markings. Passing of this test is imperative for your and others' safety, as many traffic signs and signals are dictated by coloring, i.e. red and green traffic lights and the red hexagon of a "Stop" sign.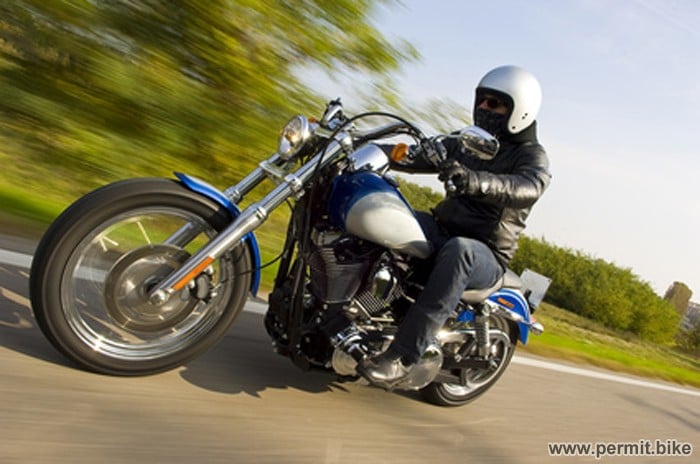 Written Exam
The specifics of the written exam will depend on the type of license you already carry and/or need to obtain. According to the driving laws for the state of Hawaii, a Class 3 license "…permits operation of passenger cars of any GVWR, buses designed to carry 15 or fewer passengers, and trucks or vans with a GVWR of 18,000 lbs. or less." If you already have a Class 3 license, you may be exempt from a "general knowledge test" and only need to complete the motorcycle-specific portion of the written test. A motorcycle license is referred to in Hawaii as a Class 2 license, and will permit operation of a motorcycle or a motor scooter.
Both tests are multiple choice. Whether taking one or both written tests, prospective motorcycle owners will want to be prepared by studying manuals and completing practice tests prior to the exam.
On-Road Skills Test
After successful completion of the written test, you will be able to get behind the handlebars of a real motorcycle in order to complete the on-road skills test in a simulated setting. During this test, you will be tested on:
Sharp turn
Normal stop
Cone weave
Quick stop
U-turn
Obstacle turn
As with the written test, preparation is key. Be sure to study the manual and it may also be helpful to check out videos on sites like YouTube which document an actual test in order to give you a feel for what to expect.
Application and Cost
Now that you understand the logistics of the process, you can move forward with applying. Applicants 18 years of age and older can fill out an application for a motorcycle permit and license at a licensing station closest to their residence.
For applicants between the ages of 15 and 17, the requirements differ slightly. These applicants must:
Provide a parent/guardian signature form
Provide proof of completed driver's education and/or driver's license
Provide proof of birth date and legal status
Provide full name
Provide social security number
After successfully completing these steps, you will be issued an instruction permit, which is valid for 90 days. You must complete a skills test in order to have this renewed.
Fees
The costs for obtaining a motorcycle license are modest, making it easy for anyone to apply:
The application fee is $1.00
The written test fee is also $1.00
Issuance of an instruction permit is $10.00
The cost of a road test is $5.00
Once issued a license, the cost will be $6.00 for two years, $12.00 for four years, and $18.00 for six years.
By following these steps, you will be prepared to successfully obtain a motorcycle license in Hawaii.

Permit.Bike is singularly devoted to the purpose of providing an easy-to-learn and simple approach to the act of riding.