How To Get a Motorcycle License in Florida
Getting a motorcycle license is different in every state and every state has different requirements. The State of Florida requires a motorcycle endorsement, either be added to your existing license or you can choose a for a motorcycle only license. The following requirements must be met in order to receive a Florida motorcycle license.
1.You must be 16 years of age
2.If you are under 18 years of age, you must not have any traffic convictions for one year.
3.You must have the minimum of a regular class E operator's license.
4.The Basic rider course must be completed no matter your age.
Out of State/Non-Residents
If you are from out of state and have a motorcycle endorsement on your license from the state where it was issued, you will not be required to get and endorsement in order to get a motorcycle license in Florida.
Military Applicants
If you have a Florida driver's license but you are out of state, you can apply for a motorcycle license by completing a military sponsored motorcycle safety course or by completing an MSF approved motorcycle safety course.
First License?
For those of you are applying for your first license in Florida, whether for a motorcycle or care, you are classified as a first time driver and will be required to take a traffic law substance abuse, education course. Completing either the DATA – Drugs, Alcohol, Traffic Awareness, First Time Driver course or the TLSAE – Traffic Law Substance Abuse Education course you will have made your first step towards your first license.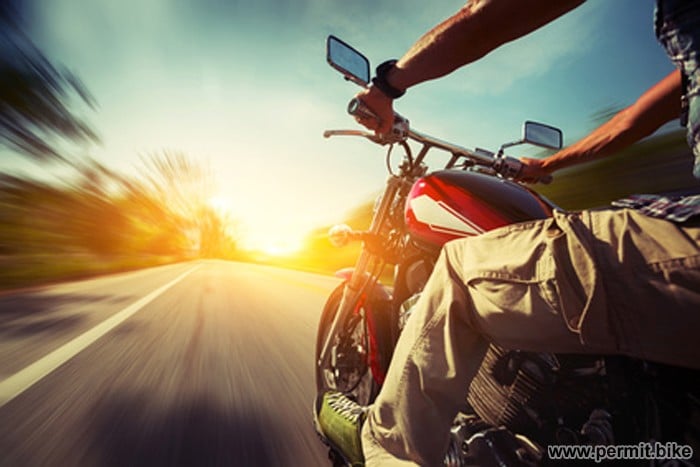 Basic Rider Course Requirement
Since Florida no longer issues temporary instruction permits you will be required to take a Basic Rider Course (BRC). The BRC will teach you the basic skills necessary to be a responsible motorcycle driver. You will learn how to start your bike, how to stop your bike, how to corner, turn and swerve. The motorcycles, handbooks and safety gear are provided for this course but you will need to have a Class E license to participate.
Three Wheelers
If a three-wheeler is your preferred mode of transportation, motorcycle license in Florida requires that you take the S/TEP – Sidecar / Trike Evaluation Program. This course provides training in the basic skills of operating three wheeler and motorcycles with sidecars. After completing and passing this course your license will show an "S" designation, which indicates that you are licensed to drive three wheel vehicles.
Florida Helmet Law
Florida is one of the states that give you the option of wearing a helmet, or not. If you are 21 years of age, you must carry an insurance policy with at least $10,000 of medical benefits before you are allowed to legally go bare headed. If you are under the age of 21, you must wear a helmet. It's the law!
Where to Get Your License
Driver's licenses in Florida are issued by the Department of Motor Vehicles and you can find answers to most of your questions regarding licensure, office locations and hours of operation. They have offices in every city and appointments are available at most offices. So, if you have a tight schedule, you can call ahead and shorten your wait time for your motorcycle license in Florida.


Permit.Bike is singularly devoted to the purpose of providing an easy-to-learn and simple approach to the act of riding.