How To Get a Motorcycle License in Kentucky
There's nothing quite like the freedom of riding a motorcycle. But as with anything, it is important to make sure that you put safety and education first before setting off on your great adventure. Because of their small size compared to other types of vehicles, motorcycles can be very dangerous if you are not adequately prepared.
Motorcycle operation is similar across the board, but each state has its own rules and procedures for issuing licenses to their drivers. The goal is to make sure that motorcyclists and other drivers are able to share the road safely, and are aware of each other. Here are some key facts to know if you're ready to get a motorcycle license KY.
License Requirements
To apply for a motorcycle license KY, you must be at least 18 years old, unless you already have a valid driver's license. With a license, you are able to apply for your motorcycle permit as young as 16, since that is the age at which you can be granted a driver's license in this state. Keep in mind that if you are under the age of 18, you will need to obtain the signature of a parent or guardian who is willing to assume responsibility for you as the operator of the motorcycle.
Qualifications
You are required to pass both a written and a vision test. To assist in preparation for the exam, you can study the Kentucky Motorcycle Manual and the Kentucky Driver's Manual. The tests will be administered at your local motor vehicle office. Though not necessary, it is recommended that you schedule an appointment.
Rider Education Program
There is another option if you prefer not to take the written exam. You can register to take a learn-as-you-ride driving course by an instructor authorized by the Justice and Public Safety Cabinet. You will be taught to properly drive a motorcycle by an experienced teacher until such time as they deem that you have mastered this skill, and then they will present you with a certificate. This certificate will be accepted in lieu of a written test when you go to acquire your motorcycle license KY.
This is a nonprofit program. It is paid for by the money collected through motorcycle fees and registrations. The curriculum is overseen by the Kentucky Transportation Cabinet under the umbrella of the Traffic Safety Institute at Eastern University of Kentucky. The course lasts 16-18 hours. One section is classroom study, while the other half is spent on a motorcycle practicing what you have learned.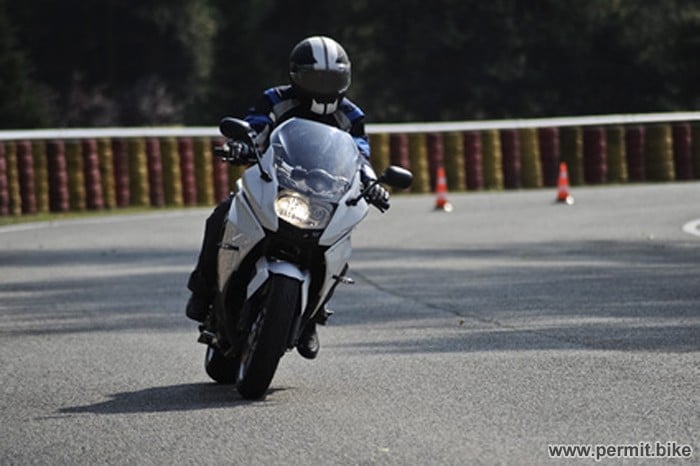 Costs and Fees
Once you have completed your written test or rider instruction class and successfully passed the vision test, there are certain fees associated with registering your bike. You are required to pay a $12 registration assessment, as well as six percent of the cost of the motorcycle. There may be other costs and required permissions associated with outfitting your bike with extra or specialized equipment. You can get more details on individualized issues and concerns from Motor Vehicle Licensing Division of the Kentucky Transportation Cabinet.
Protective Gear
After you've gotten your license, there are still a few things required for you to be considered compliant with regulations. You must maintain liability insurance on your motorcycle, keep your registration current, and wear protective glasses. For the first year, you and your passenger have to wear helmets. After a year of safe driving, the helmet becomes optional if you are over 21 years of age.
Vehicle Requirements
There are some standard features that you must outfit your motorcycle with:
• Front and hind brakes
• Mirrors that allow an unobstructed view behind you
• Headlight with both bright and dim beam capability
• A light on the rear of the motorcycle
• A horn
• A muffler
• A tailpipe
• Regulation tread on the tires
• Blinking turn indicators
• Separate seats for driver and passenger
• Individual footrests for driver and passenger
Safety Tips
Once you have received your motorcycle license, there are some extra measures that you can take to ensure your safety while enjoying your excursions. If at all possible, try to wear phosphorescent vests that reflect light. At the very least, wear loud vivid-colored clothing, so that motorists driving cars and trucks are able to easily see you.
Motorcyclists should carefully follow normal traffic rules, and avoid zooming in and out between other vehicles. Be aware that if you are carrying a passenger, the heavier load will make it more difficult for you to bring the bike to a quick stop. Always leave plenty of distance between you and the motorist in front of you. And remember to keep your headlight on during daylight, as well as nighttime, motorcycle riding.

Permit.Bike is singularly devoted to the purpose of providing an easy-to-learn and simple approach to the act of riding.