How To Get a Motorcycle License in North Carolina?
All North Carolina (NC) law and regulations governing motorcycle license NC issuance and renewal derive from Chapter 20 Section (§) 7 of the General Statutes. The Division of Motor Vehicles (DMV) of the state Department of Transportation, established by § 20–1, administers and enforces the statutory licensing laws.
License Classes
Under § 20–7(a)(1), (2), and (3), the statute classifies driving licenses and the motor vehicles each class authorizes drivers to operate:
A Class A license authorizes the operator to drive any motor vehicle exempt under § 20–37.16 from commercial driving license requirements and any motor vehicle with a combined gross vehicle weight rating of less than 26,001 pounds with a towed unit of at least 10,001 pounds as part of the combination.
A Class B license authorizes the operator to drive any motor vehicle exempt under § 20–37.16 from commercial driving license requirements.
A Class C license authorizes the operator as a volunteer member at least 18 years old of a fire department, rescue squad, or emergency medical service to drive in the performance of duty any noncommercial motor vehicle or a combination of noncommercial motor vehicles with a gross vehicle weight rating of more than 10,000 but less than 26,001 pounds.
Any of these licenses with a motorcycle endorsement authorizes the operator to ride motorcycles on the public roads and highways.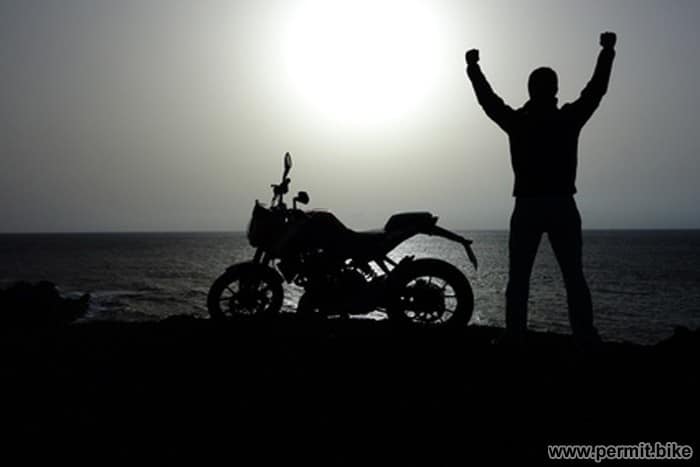 License Requirements
A driver licensed by another jurisdiction must apply for a motorcycle license NC within 60 days of becoming a new resident to operate a motor vehicle in this state. The DMV may waive written and road tests if the applicant surrenders a valid license from another state unless the out-of-state license has expired for more than two years.
Any motor vehicle operator with a full provisional, a regular, or a commercial driving license is eligible to apply for a motorcycle endorsement and be licensed to ride motorcycles too. An applicant for a motorcycle endorsement must be licensed for at least six months. The process is the same as for any other driving license endorsement in North Carolina. Applicants younger than 18 years old must have a parent or legal guardian endorse the application.
Unlicensed applicants may apply for motorcycle learners permits. To start the application process, they must present the following documents:
Proof of age and identity. Examples of acceptable documentation are birth certificates, social security cards, tax forms, military identification (ID), valid passports, and school ID.
Proof of Social Security. Examples are Social Security cards, 1099 tax forms, W-2 forms, DD-214 forms, and payroll records.
Proof of Residency. Examples are voter precinct cards, utility bills, housing leases or mortgage statements, and property or income tax statements.
The DMV issues learner's permits for 12 months renewable only once for six months. Tests required for a learner's permit are for vision, for knowledge of traffic signs and signals, and for motorcycle knowledge. A motorcyclist riding on a learner's permit must be accompanied on the road by a licensed rider, may not ride on the road between 9:00 PM and 5:00 AM or between sundown and sunup, and may not carry a passenger.
For a new motorcycle license NC or a motorcycle endorsement on an existing license, the DMV requires a road test for safe driving skill rated by an examiner. Applicants must make appointments for their road tests at any DMV office. Road test appointments are available on Tuesdays, Wednesdays, and Thursdays at 8:30 AM and 2:30 PM.
License Cost
The motorcycle learner's permit fee is $15.00. The DMV issues licenses for eight years to applicants aged 18 to 65 and for five years to those 66 and older. The fee for an eight-year motorcycle license is $4.00 (base annual fee) + $1.75 (annual motorcycle endorsement fee) = $5.75/year x 8 years = $46.00.
Tests
Whether for a learner's permit, an original license, or a license renewal, the applicant's vision must be checked for certain standards. Applicants who need corrective lenses to meet the standards must wear them at all times while driving, and the license so indicates. The penalty for driving without corrective lenses is as for unlicensed driving.
For the traffic signs test, the DMV issues a handbook with colored illustrations of all signs and signals on which applicants may be tested. To pass this test, they must identify the traffic signs by color and shape and explain their meanings.
The motorcycle knowledge test is about traffic laws and safe driving measures. The test format is multiple-choice on content from the DMV Driver's Handbook.
The road test demonstrates the applicant's ability to drive safely in traffic. This test is the last after the applicant passes the vision, traffic signs, and motorcycle knowledge tests. Some of the maneuvers and skills the examiner observes and grades during this test:
Approaches to intersections, stop signs, and traffic signals;
Quick stops and stopping quickly and safely when told;
Backing;
Parking;
Use of the clutch;
Use of turn signals and horn;
Turning and use of lanes;
Following other vehicles;
Passing and being passed by other vehicles; and
Yielding right of way to pedestrians and vehicles.
Permit.Bike is singularly devoted to the purpose of providing an easy-to-learn and simple approach to the act of riding.