How To Get a Motorcycle License in North Dakota
North Dakota may be known for its frigid winters, but for motorcycle riders, that just makes the few warm months of summer more valued. If you're contemplating adding a motorcycle to your transportation options, you'll need to get legal to ride it.
License Classes
Motorcycles have many advantages over automobiles. They're fun to ride, inexpensive to operate and easy to park, but it's not all fun and games. The North Dakota Motorcycle Safety Program (NDMSP) aims to train riders on critical skills required for safe riding. They offer courses on Basic Rider, Effective Turning, Obstacle Avoidance, Traffic Strategies, Braking Maneuvers and Maintenance.
If you're preparing to get a North Dakota motorcycle license, taking a class will not only increase your chances of passing both the written and road test, but it will make you a better rider.
The North Dakota Department of Transportation offers specific information and links to sites that may be helpful, like information on acceptable forms of identification.
Application Process
Apply in person at any one of the Driver's License Sites listed in the North Dakota Department of Transportation's "Motorcycle Operator Manual, Class M."
Provide proof of identity and North Dakota residency.
A partial list of acceptable forms of identification include US and Canadian birth certificates, valid US Passport or Foreign Passport with I-551 stamp or I-94 card, Military ID, and other unexpired immigration documents. For a complete list, see the Motorcycle Operator Manual mentioned above.
Surrender all licenses issued by other countries or states.
Complete the application, and be prepared to provide your social security number.
Provide valid learner's permit or driver's license or proof of completion of the Rules of the Road knowledge test.
Complete the Motorcycle knowledge test.
Pass a vision screening.
Purchase the motorcycle permit.
License and Testing Cost
The current cost of testing is $5 for each written or road test attempted, and the motorcycle permit fee is $8.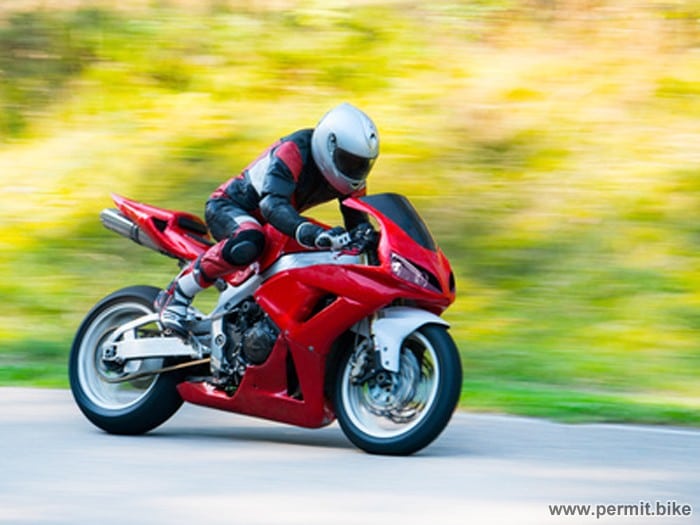 Motorcycle Permit/License Requirements and Restrictions
Ages 14 – 15
A Motorcycle Permit issued to this age group restricts the rider to daylight driving only and to riding 250cc motorcycles and under. They must wear a helmet and can have no passengers.
They must hold a valid permit for two months before applying for a motorcycle license.
With proof of completion of the Basic Rider Course dated within six years, the road test may be waived.
After passing the written and road tests and being awarded a North Dakota motorcycle license, the rider in the 14 – 15 age group is still restricted to 250cc motorcycles or less, and they must wear a helmet.
Ages 16 – 17
Riders in this age group with a Motorcycle Permit are restricted to daylight driving only, they can have no passengers and they must wear a helmet.
Once the rider becomes licensed, the only remaining restriction is that they still must wear a helmet.
Ages 18+
With a Motorcycle Permit, riders in the age group are restricted to daylight driving only and no passengers.
When they become licensed, all restrictions are lifted.
Written Permit Test
Assessing one's own skills is tricky, since we tend to over estimate our skills. Licensing exams are more objective, and the knowledge test questions are based on an understanding of road rules and safe practices mentioned in the Motorcycle Operator Manual.
Road Test
In the on-motorcycle skill test, you are tested to determine you ability to control the vehicle, crash-avoidance skills, and your skill in both normal and hazardous situations. Skill tests are not conducted during inclement weather. The North Dakota motorcycle license test utilizes a Skill Test consisting of basic control and collision avoidance. A cones weave is set up with cones being 12 feet apart with an offset of two feet.

Permit.Bike is singularly devoted to the purpose of providing an easy-to-learn and simple approach to the act of riding.