How To Get a Motorcycle License in Ohio
Getting a motorcycle license in Ohio can seem complicated, but it is all about following a set path with required items along the way. Classes do not have to be taken at the Bureau of Motor Vehicles, but they do need to be offered by a recognized company like D & D Driving School or by taking the Basic Rider Course at the local Bureau of Motor Vehicles (BMV). Reading is a huge part of the process. Becoming familiar with the motorcycle operator manual and written laws is the first step to getting a motorcycle license. The following paragraphs offer information on specific parts of the licensing process including a step by step explanation of the process according to the State of Ohio.
License classes
License classes can be taken at most license bureaus and any number of driving education schools located throughout Ohio. Classes at the Bureau of Motor Vehicles require the following:
A motorcycle and helmet will be provided for all students. The basic course lasts for six hours. Longer courses are available for more in-depth instruction.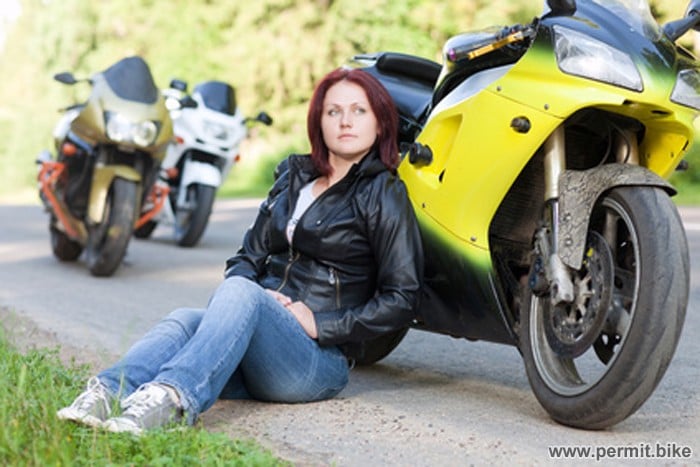 License requirements
18 & Under
DOT approved helmet
Have a temporary permit for at least six months
Pass a Motorcycle Ohio Basic Course
Take 50 hours of approved Driver's Instruction
Pass a vision test
Take a written test
Pass the road test
Pay a license fee
bring at least two approved forms of identification
A licensed guardian 21 years of age or older with proper identification
Adults taking motorcycle exams
Hold a valid Ohio drivers license
Take a knowledge and vision test
Obtain a T.I.P.I.C.
Take a skills test
Surrender license and swap for a license with a motorcycle endorsement
Have a picture taken and pay the license endorsement fee
Licensees must bring their own helmet and eye protection as well as a fully operational and legal motorcycle.
License cost
The fees for an Ohio Motorcycle License are listed below.
First Drivers License-Age determined fee up to $24.25
Moped License-$21.00
Temporary Driving Permit-$22.00
Deputy Registrar Transaction Fee-$3.50
Lamination Fee-$1.50
Vision Screening-$2.75
Other service prices like title transfers and car registrations can also be found at the Ohio BMV website.
License process
The first thing a person must do to get a motorcycle license in Ohio is be at least 15 and 1/2 years old and acquire a temporary instruction permit identification card called a T.I.P.I.C. The next step is to fulfill the license requirements listed above. Once both parts of the test have been passed, it is time to take the receipts and test results to the registrar at the BMV. Finally, get a picture taken and pay the license fee to get a new license.
Written permit test
The written permit test includes a knowledge test that covers road signs and Ohio laws. Drivers must pass at least 75% of the test in order to obtain their Ohio motorcycle license. An eye exam will be given during this visit.
Road test
The road test for an Ohio motorcycle license will require the driver to do a pre-ride safety checklist called a T-CLOCS Inspection Checklist. The instructor will then take the driver through a maneuverability test that includes navigating around cones and parking or out to the road for a test ride.
Taking a license test for of motor vehicle is a big decision. The proper research and time investment is necessary to ensure that safe drivers operate on Ohio roadways and all over the United States. The process to get a motorcycle license is available in more detail at Ohio BMV. Spending time to read all of the material before visiting the BMV for a temporary permit is widely suggested. Study the material in-depth and become familiar with all of it. Make sure to give it time to soak in. Take notes, reread, scan again, or read it out loud, if necessary, to absorb the large amount of material. The knowledge will be tested both on and off the road. Instructors can guide exam takers through fast stops and controlled conditions, so a keen awareness of the surroundings is a good idea.

Permit.Bike is singularly devoted to the purpose of providing an easy-to-learn and simple approach to the act of riding.