How To Get a Motorcycle License in New York
If you are a motorist that is interested in applying for a motorcycle license in New York, it is important to have thorough knowledge regarding testing requirements, permits, and laws as a motorcyclist. Several components to obtaining a motorcycle license , to keep in mind include: license requirements, costs, classes, license process, written permit test, road test.
Written Test
You will need to either go to your local Department of Motor Vehicles (DMV) or online access the Motorcycle Manual. When you are ready to take the written motorcycle test, you will need to appear at the DMV office with a completed application for Driver's License or Non-driver ID Card form, a picture ID, and permit fees.
Learner's Permit
If you pass the written motorcycle test, you will be issued a learner's permit. In New York, the motorcycle learner's permit is called a Class M for motorists operating a motorcycle or a Class MJ for junior motorists operating a motorcycle. The permit will last one year from the date issued to allow time to complete any necessary requirements. There are a few restrictions that apply while if you are holding a motorcycle leaner's permit:
• You must always be supervised by another person that holds a valid motorcycle license with no less than ¼ of distance between you and them when operating a motorcycle.
• You may not have a passenger on the motorcycle when riding.
• The individual supervising you must be at least 21 years old.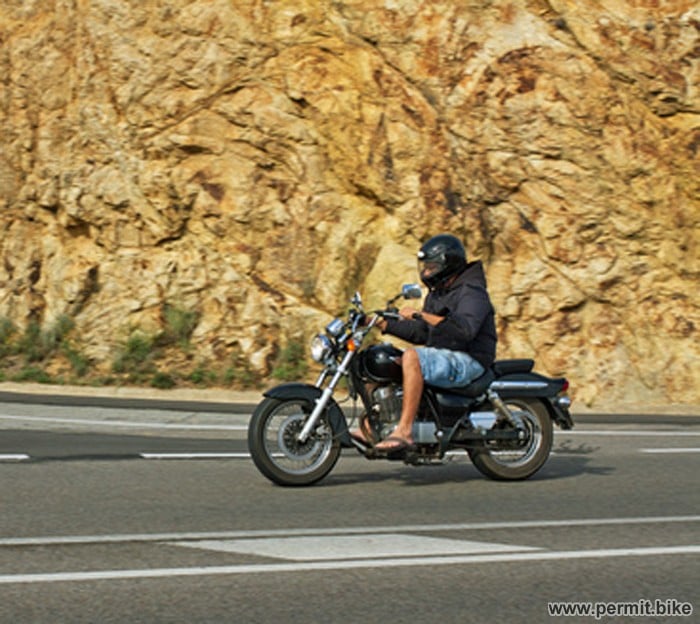 Training
The DMV strongly encourages all motorcycle applicants to take a regulated motorcycle driving course, though this is not required. Prior to your motorcycle road test, it is recommended that you practice at least 30 hours. 10 of the 30 practice hours should be in traffic with heavy congestion. If you are able to prove that you have completed your practice through a reparable motorcycle driving course, your road test could be waived by DMV. The New York Motorcyclist Safety Program (NYMSP) is an official organization that the DMV recognizes and endorses as an organization that meets all motorcycle road test requirements. If you were to complete your motorcycle practice sessions with NYMSP, your road test will be waived.
Motorcycle Road Test
Once you have had 30 hours of practice on the road, you may contact DMV to schedule your road test. Road test tips are offered on the New York DMV website for you to view prior to your road test. When you arrive to take your road test, your motorcycle must already be registered and inspected. There is to be an additional vehicle and an 18 or older licensed driver available for the examiner to ride alongside you as you are completing the road test.
Temporary Motorcycle License
If you pass the road test and already have a Class D or standard vehicle driving license, the examiner will issue you a temporary motorcycle license that will expire in 7 days. During this time frame, you will need to present your motorcycle learner's permit, temporary motorcycle license, and your Class D photo ID to the DMV. You will then complete an additional Application for Driver License or Non-Driver ID to receive a combined Class M/MJ and Class D license.
What if I do Not Have an Additional Driver's License (Class D)?
For any motorcycle license applicant that does not have a license prior to applying, they will be required to take both the written motorcycle license test and the driver's license test. You will need to enroll in a driver's education course for a learner's permit. Once all preliminary course work is finished, you may register for a road test. In addition to your motorcycle learner's permit, you will need a copy of your driver learner's permit, photo ID, certificate of completion from a driver's education course, an inspected and registered motorcycle, and an inspected and registered vehicle for you to drive during the road tests. You will also need an individual with a valid driver's license and with a vehicle to transport the examiner during your motorcycle road test. If you pass both road tests, you will be issued a temporary Class M or Class MJ license. Your official driver license will be mailed to you within two weeks of your road test.
Cost Associated with a Motorcycle License NY
• Learner's Permit $21 – $120
• NYMSP Motorcycle Driving School $275 to $300
• License $85 -$95
• Registration $3.75 application fee, $12.50 registration fee , and $50.00
Title registration fee
If you are applying for a motorcycle license NY, you will need to complete a written test, obtain a learner's permit, practice driving, and successfully complete a road test. If you have any additional questions about this process, please visit your local DMV.

Permit.Bike is singularly devoted to the purpose of providing an easy-to-learn and simple approach to the act of riding.