How To Get a Motorcycle License in New Mexico
The wide open roads of New Mexico and the beautifully hot dry weather makes for perfect riding, and it is no wonder that the state is so popular for both road trippers and locals who love to ride. Motorcycling in New Mexico has a long, strong place in the state's history, but before you pack your saddlebags and head out for a weekend, make sure that you have your motorcycle permit on you. In New Mexico, to operate a motorcycle you do need a permit, as described below.
What Is a Class M Permit?
To operate a motorcycle in New Mexico, you need to be able to offer proof of having earned a Class M permit as issued by the Motor Vehicle Division OR you need to be able to present an instruction permit for motorcylces.
To earn a Class M permit, you need to pass a vision screening, a test on the road signs, a written motorcycle knowledge test and finally, a test for motorcycle skills proficiency. These can all usually be completed in the same day, allowing you leave with a license as soon as you have been issued one.
It is possible for those over the age of 15 and under the age of 18 to earn a special permit as well. To acquire a permit to operate a motorcycle in this class, you need to pass a state-approved basic motorcycle safety class and you need to have a parent's permission to take the course, in addition to the measures listed above.
There is also a Class M permit that is available for people who are older than 13 to ride motorcycles as well, though this requires more parental supervision and a restriction to motorcycles that are under 100 cc piston displacement.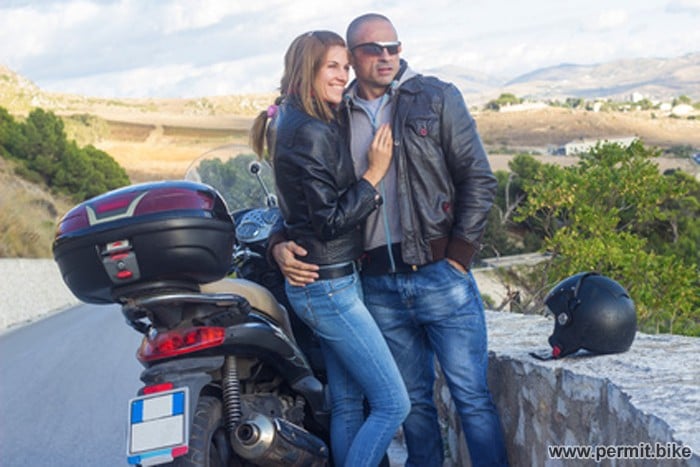 Endorsement
Each Class M license comes with an endorsement attatched that informs the user what kind of engine they are allowed to use. A W endorsement authorizes the operation of an engine with 100 or more CC piston displacement, meaning that it allows you to ride the largest and most powerful motorcycles on the road. A Y endorsement authorizes a CC piston displacement of less than 100 but more than 50, while a Z endorsement allows you to operate an engine with less than 50 cc piston displacement. Before you take the test, make sure that you verify what CC range your motorcycle has. This will typically be marked clearly on your motorcycle's body or it will be in your owner's manual.
Documentation
When you want to get a New Mexico motorcycle license, you must be willing to provide a certain amount of documentation. You need to offer up a state-issued birth certificate or a certified copy of one, your Social Security card, two proofs of residence and your proof of a motorcycle license. You also need to have the contacts or glasses you need for a vision test, and you may also need to have a parent or guardian present if they are needed to sign if you are under 18.
Remember that a Class M permit costs 18 dollars for a four year license and 34 dollars for an 8 year term.
Opting Out
Over the last few years, the New Mexico standards for motorcycle safety have risen. At this point, there are incentives for taking motorcycle safety courses. As long as the course is approved by the MVD, you can waive the road skills portion of the test. The courses take between two to six weeks to complete, they offer motorcycle experience on a closed course, and they include plenty of classroom instruction.
Acing the Written Test
When you are worried about getting your New Mexico motorcycle license, one of the areas that you might be concerned with is passing the written test. The test is based entirely off of the information that is found in the Driver Manual that is found at the New Mexico MVD. This test does not cover the entire manual; instead it will only cover the motorcycle section, though you will of course need to understand the rules of the road. You may take practice tests before your written test that can make you feel a lot better prepared to handle the test on your big day.
When you want to acquire your New Mexico motorcycle license, there are a number of things that you need to do. Simply by staying on top of them, you will have what it takes to be roaring down those highways in no time!

Permit.Bike is singularly devoted to the purpose of providing an easy-to-learn and simple approach to the act of riding.