How To Get a Motorcycle License in South Dakota
Riding a motorcycle is fun and thrilling. But before you decide to obtain your motorcycle license SD, there are a few things you need to know. You want to ensure that the process goes smoothly and that you are safe and prepared to ride out onto the open road.
Motorcycle License Process
You can apply for a motorcycle license at any exam station in South Dakota. You'll need to provide a document to prove your identity and birthday, such as a birth certificate. You'll also need a document showing your social security number, such as a social security card. In addition, bring two documents that verify your address. Your photo will be taken to serve as the license ID. You will also have to take a vision test. If you wear glasses or contact lenses during the test, you must also wear them while driving. A written knowledge test is required as well, which tests your knowledge of the rules of the road. Finally, a driving test will be administered. If you are new to the state and already have an out-of-state license, you only have to pass the vision test and make sure your old license complies with South Dakota motorcycle licensing requirements.
Motorcycle License Requirements
The requirements to obtain a motorcycle license are as follows: You must be at least 16 years old, pass the motorcycle written and driving tests, and have no convictions for traffic violations within the last 6 months.
Motorcycle License Cost
Fees to obtain a motorcycle license SD are as follows:
• $20 for a regular license
• $20 for a new motorcycle license permit
• $10 for a motorcycle instruction permit for those who already have a valid driver's license.
If you fail any part of the licensing process, you may retake the test three times in a six-month period without having to pay the fee again.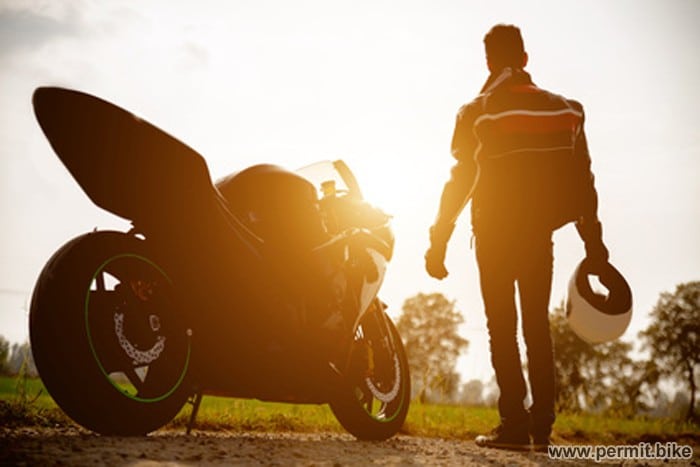 Motorcycle License for Minors
Minors must be at least 14 years old to obtain a motorcycle permit. There are two types: The motorcycle instruction permit and the motorcycle restricted minor's permit. The minor must pass the vision and written tests to earn the motorcycle instruction permit, and can be upgraded to the motorcycle restricted minor's permit after 180 days, or after 90 days if he has taken an approved Department of Education driver education course. The motorcycle instruction permit is valid for one year and allows minors age 14 to 18 to drive between 6 a.m. and 8 p.m. as long as they're driving with another licensed motorcycle operator who is a least 18 years old and has driven for at least one year. Upgrading to the motorcycle restricted minor's permit requires that the minor have no traffic violations in the last six months, pass the motorcycle driving test, and meet the requirements of the motorcycle instruction permit. The motorcycle restricted minor's permit is good for 5 years. The permit holder can operate a motorcycle between 6 a.m. and 8 p.m. unsupervised as long as he has the consent of a parent or guardian.
Motorcycle Written Permit Test
Before you take the written test for your motorcycle license SD, you can obtain a copy of the motorcycle driving manual. Studying the manual will help you pass your motorcycle test by providing access to the rules of the road and advice about how to drive safely to avoid crashes. It will also inform you of what to do in the case of an emergency, such as what can occur when driving on dangerous roads. Part of the test is specific to driving a motorcycle in South Dakota. It will also cover the safety gear you'll need to wear while out on the road. Studying the manual is imperative to your safety as well as the safety as others on the road with you.
Motorcycle Road Test
For the road test, the applicant must provide his own motorcycle, and it's important to completely follow all of the examiner's instructions. Children and pets are not allowed in the testing area.
Motorcycle License Classes
You may not be confident enough to study the motorcycle manual on your own, but you can take classes that will prepare you for obtaining your motorcycle license SD. The South Dakota Safety Council is the state's authorized motorcycle training center, and it offers various motorcycle classes for both new and experienced riders. Courses range from $60 to $75. After completing a class, the license will be administered as the final step.
Motorcycle Registration
To operate a motorcycle in South Dakota, you must register the motorcycle within 30 days of purchase. If you are from out-of-state, you have 90 days. You'll need to bring a bill of sale for the motorcycle, an application for registration and payment for the license fee. The registration must be renewed every year.

Permit.Bike is singularly devoted to the purpose of providing an easy-to-learn and simple approach to the act of riding.