How To Get a Motorcycle License in Tennessee
Every state requires a license for motorcycle operators, and every states requirement is different. The Tennessee motor cycle license differs for some states, because they have a motorcycle only license (Class M) that does not require a regular license before it can be acquired. This license can be attained at the age of 15 and following are the requirements for a Class M license in Tennessee.
Requirements for a Class M License
•Learner's Permit
•Proof of citizenship
•Primary proof of identification
•Secondary Proof of identification
•Two pieces of mail that prove you are a Tennessee resident that includes your name and address and is not over four months old.
•Proof of your social security number or an affidavit from the Social Security administration stating that a number has been issued
•Completion of knowledge test
•Vision Exam
If you are between the ages of 15 and 18, you will also be required to provide a certified birth certificate and a minor/teenage affidavit to obtain a Tennessee motorcycle license. The affidavit must be signed by a parent, stepparent or legal guardian of the applicant who lives at the same address and must be notarized. Proof of school attendance must also be submitted when applying for your learners permit. Once you have produced the listed documents, as required by the State of Tennessee, you will be issued a learner's permit. You can then begin practicing the operation of a motorcycle.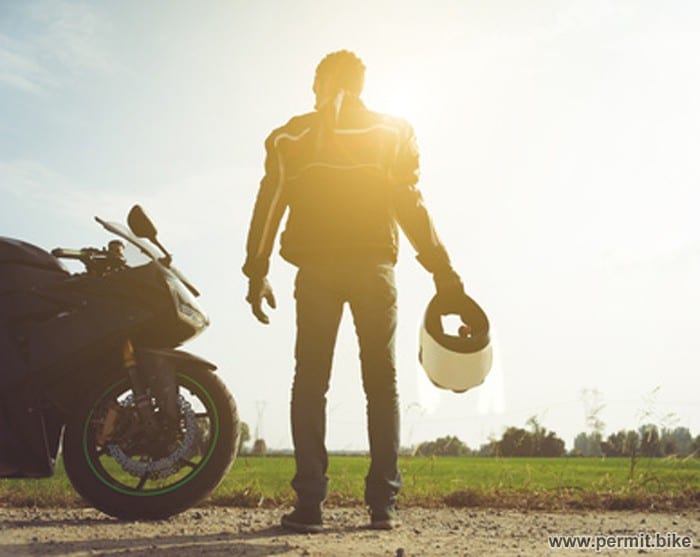 At the age of 16, you can apply for an intermediate restricted license and can do so if you have had a learners permit for six months prior to applying. You will hold this license until you are 18, when you can obtain a regular Class M license. When applying for your intermediate license you will need to submit a certificate stating that you have 50 hours of riding experience, which includes 10 hours of night driving and take a skills test where your driving skills will be assessed.
At the age of 17, you can apply for an intermediate unrestricted Tennessee motorcycle license if you have held an intermediate restricted license for one year. Once you reach the age of 18 you can apply for a Regular license.
Rider Education
In order to receive your license you must pass an on cycle-skills test where it will be determined if you can safely operate a motorcycle. The Tennessee Motorcycle Education Program offers courses that teach you road safety and how to operate your motorcycle. Taking a motorcycle safety course is a good way to learn the hands on skills and knowledge that you need to safely operate your motorcycle. The course will also give you the confidence that you need when riding, to pass the required skills test for your Class M license.
Where to Apply
Application for a Tennessee motorcycle license can be made at a driver services center, where you can apply for your license and take your written exam. Skills test locations can be found in most counties and your exam can be made by appointment. Some counties have locations where both the skills and written exam are performed and some do not. You will need to check with the county in which you are located.


Permit.Bike is singularly devoted to the purpose of providing an easy-to-learn and simple approach to the act of riding.