How to Get a Texas Motorcycle License
Getting your Texas motorcycle license doesn't have to be difficult, but you have to know where to start. The process makes a lot of sense once you know what is expected of you.
Below, find a helpful step-by-step guide to everything, including general costs associated with satisfying the state's safety standards.
Get information on required safety courses and other licensing requirements such as written and road tests here now.
Pass A DPS-Approved Motorcycle Safety Course
In Texas, there are specific rules governing the operation of a motorcycle. Operating any motorized bike that can go in excess of 30mph and where the driver can switch gears calls for a class M license. Operating anything less, like a moped or scooter, will not usually require a license. As always, check with local authorities to ensure compliance with the law.
To obtain a class M drivers license in the Lone Star state, a person must first possess or obtain a standard drivers license.
Next, individuals must achieve a certificate of completion satisfactory to the standards of the DPS-approved course they enroll in. This course is not optional for first time licensees as the state must ensure an individual can safely operate a motorcycle just as they do with other drivers.
However, if a rider already holds a valid motorcycle operating license from another state, they will not be required to take the safety course in Texas.
An exception to this waiver applies to minors. Teens must fulfill basic drivers education standards before being licensed to legally operate a motorcycle in the state, even if the teen holds an existing motorcycle license from another state. This includes general drivers education classes, but will not include a road test in a car unless the driver also needs a new, original standard license.
Individuals are encouraged to contact the Texas Department of Public Safety or view their website for more information on minor drivers or riders.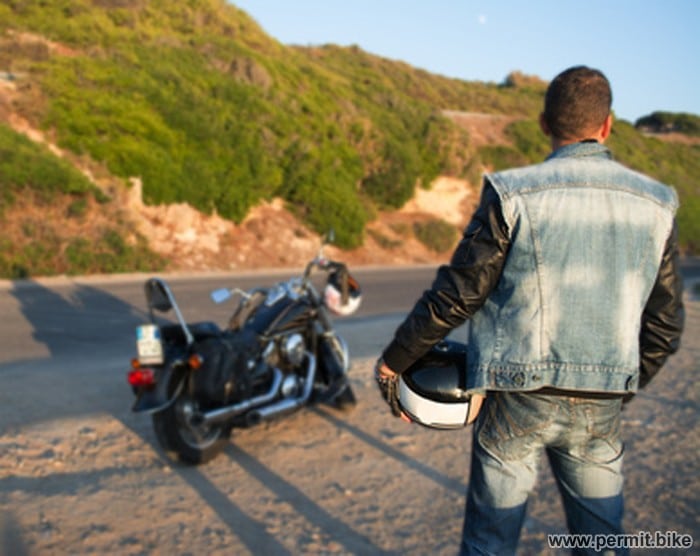 The Lone Star State's Licensing Requirements
For a currently licensed auto driver, the next step to obtain a Texas motorcycle license after the safety course is to take a written test at the drivers license office.
A state motorcycle operators manual exists to help individuals study for this exam. It can be found online or you can pick up a copy at the drivers license office.
At this point, the final step is to pass a road test if required. It is possible the road test requirement will be waived for adults 18 and over.
If the class M license being sought is the first license of any kind for an individual, the person must also pass a written test on operating a car. A road test in a car is not required, but a motorcycle road test is necessary to prove driver competency before the M license will be issued.
Costs Associated With Getting Your Motorcycle License In Texas
A motorcycle license in Texas will cost between $8–$33 depending on the type. For example, a current drivers license holder who wishes to add a class M license can expect to pay $16 and have the class M license expire at the same time the regular license does.
The license itself is fairly inexpensive, and annual registration runs $30 a year plus county fees. However, there are other costs to consider that will hit you right up front.
Be prepared for a typical basic motorcycle safety course from a DPS-approved source to cost around $200.
Overall, the process to obtain your class M license is fairly straightforward as long as you follow all required steps.
Consult your local drivers license office for more information and to obtain study materials specific to Texas regulations.


Permit.Bike is singularly devoted to the purpose of providing an easy-to-learn and simple approach to the act of riding.