How To Get a Motorcycle License in Utah
The laws for motorcycles can vary widely from state to state, making it necessary for riders to take the time to familiarize themselves with state regulations when moving or when getting license for the first time. Utah is a perfect example of a state where some unique regulations apply to motorcycles. However, the following guide to getting your license in this state will keep the surprises to a minimum. Utah requires special licensing for operating this type of vehicle due to the inherent dangers to riders and others on the road. A Utah motorcycle license comes in two basic forms from the Driver's License Division of the Utah Department of Public Safety. Riders can attain a specific motorcycle license for operational purposes or update their existing license. If a driver is already in possession of a standard, Class-D license that includes regular passengers, then they can have a motorcycle endorsement added to this certifications.
Restrictions
A Utah motorcycle license is unique in that it restricts riders to the CC-size of the engine on which they were tested. This restriction means that individuals tested on engines that are 90 cc or below can only legally operate vehicles with the same engine rating or lower. However, this restriction is lifted when riders are tested on a engine that is rated at 650 cc or above. Once licensed on a vehicle at this level, no other restrictions apply. There are also some intense restrictions on the beginner's permit that is extended in order for riders to gain experience on the road. While operating under this permit, riders cannot take their bike onto a highway where the posted speed limit is above 60 mph. Additionally, they cannot carry riders or operate their vehicles between the hours of 10 in the evening and 6 in the morning. These restrictions apply without exception for the first two months that the permit is in place.
After this 2-month period has passed, all restrictions are lifted.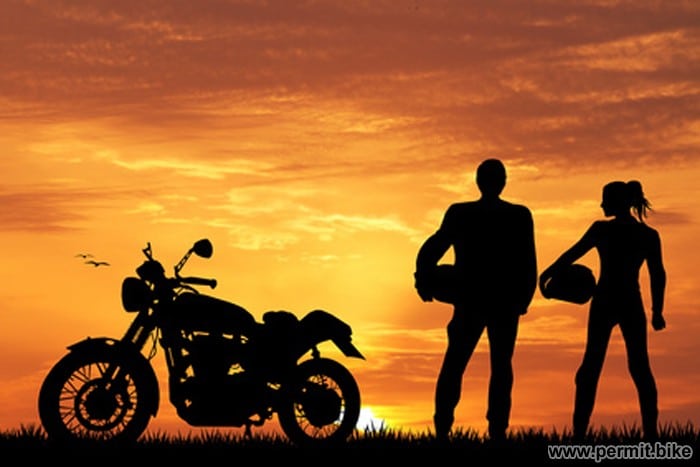 Requirements
Riders can complete all the required steps for attaining a Utah motorcycle license at a local DMV. They must fill out an application for the license and present all of the required paperwork for any type of new, standard license. Each rider is getting a new license, in essence, making it necessary to present various forms of identification that can include a birth certificate, driver's license, and state identification card. There will also be a processing fee of $9.50.
Enroll in approved riding courses
People can explore the option of bypassing the licensing offices and the required road test as well. Rather than taking the time to schedule a road test and present paperwork, riders can enroll in approved riding courses that have been sanctioned by the Utah Department of Public Safety. These courses are typically referred to as Motorcycle Safety Foundation classes and Beginning Rider courses. Once you have completed these courses, your certificate can then be filed with the licensing department in order to attain your license. These courses offer the safest methods of learning for beginning riders. Instead of learning to ride on one's own, riders are given careful instruction and monitored as their riding skills progress. Riders should also be aware that these courses do not exempt them from taking the written exam.
Advantage of taking riding course
There are many other advantages to taking the rider courses for people at all levels of experience. Insurance companies typically offer lower rates to riders who have completed these programs. Riders will be required to present insurance for their motorcycle at the time that their license is issued. Motorcycle riders can also be required to provide proof of insurance for their bike if ever pulled over at any time. Riders who are unable to present any proof of insurance may face penalties that include surrendering their registration.
What's in riding course?
The courses are fairly simple as well, typically consisting of 15 hours in the classroom and 10 hours on the motorcycle itself. Helmets are provided by most schools in addition to motorcycles for training. However, students should be aware that the engine size of the motorcycle they use during training will restrict their license to that size as well. Most courses offer use of a bike that has an engine rating that is between 150 and 250 cc. Riders wishing to be certified on anything larger will be required to provide their own equipment. There are a number of schools that offer these courses to riders for competitive pricing. Among those with the highest enrollment are those being offered by the Utah Motorcyclist Association, Salt Lake Community College, and Dixie College in Saint George. Riders attaining their Utah motorcycle license by taking approved courses must submit their paperwork to the proper offices within 6 months of completing the course. Any students in this state who face difficulty when it comes to funding their education for motorcycle safety can also find financial assistance through many of the local and regional motorcycle manufacturers as well.


Permit.Bike is singularly devoted to the purpose of providing an easy-to-learn and simple approach to the act of riding.