How to Get a Motorcycle License in Nebraska
Motorcycle Licenses
Before buying their first motorcycle, many people in the United States are unaware that a special license is required to operate a motorcycle in most states. This is an entirely different license than the general "driver's license" that most Americans obtain around the time they turn 16, and usually requires more extensive written and road competency testing. This article will walk you through, step-by-step, exactly what you need to do in order to obtain a Nebraska motorcycle license.
Requirements
Before beginning the process of applying for a license, you should first make sure you meet all of the state's requirements. In Nebraska, a motorcycle license (also known as a "Class M License") allows you to "operate a motorcycle or three-wheeled motor vehicle." (Source). If you have held your Provisional Operator's Permit (a permit which allows people aged 16-18 to drive unsupervised between 6 a.m. and midnight and supervised all other hours) for at least one year and have less than three points against your license, you are eligible to apply for a Class M License at age 17. If you fail to meet any of these requirements, you must be 18 to apply for a Nebraska motorcycle license.
Application Process
To begin the process, you must first go to a Nebraska DMV and provide them with proof of your identity (like a government issued identification card, valid driver's license, or passport) and two documents proving you reside in Nebraska (things like bank statements, leases, or phone bills). Once you apply for a Nebraska motorcycle license, you will then have to pass a standard vision test.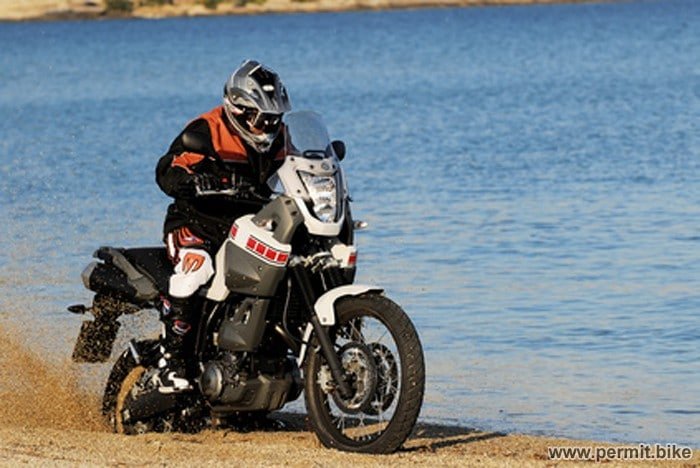 Two Options to Proceed
After you apply and pass the vision test, you have two options for how to obtain a Class M license. You can either take the knowledge and skill tests through the state DMV, or you may choose to take a state approved motorcycle safety training class through a private agency. If you attend and fully complete said class, both your written and skill tests will be waived. A list of approved class providers can be found here
Written Test
If you choose to go through the DMV, you must pass a written "Knowledge Test." Both the written and skill tests are only available at select DMVs within the state. A complete list of DMVs where you can take both tests can be found here. Some sample questions can be found on page 46 of the State of Nebraska Motorcycle Operator Manual (located here). Many of the questions will be similar to the ones encountered on a standard driver's license test. However, others are specific to motorcycles. Therefore, it is highly recommended that you study the manual prior to taking your knowledge and on-motorcycle skill test.
On-Motorcycle Skill Test
If you choose to take your skill test at a Nebraska DMV, make sure you make an appointment beforehand that gives you enough time to become comfortable on a motorcycle. Obviously, until you possess a Nebraska motorcycle license, you can not legally drive a motorcycle on public roads. However, it is totally legal to ride a motorcycle without a license on private property. Empty parking lots are a great place to get in crucial practice without breaking the law or endangering yourself or others.
The DMV administered test includes all of the basic skills required for riding a motorcycle, including entering and leaving traffic safely, obeying traffic and safety laws, and proper braking technique. The test will also include all pre-ride safety checks that should be performed before ever riding, such as brake checks, mirror checks, and head and tail light checks. The test itself is divided into four sections:
1) a sharp 90-degree turn which must be followed by a controlled stop withing certain parameters.
2) A slalom through a cone course followed by a controlled U turn.
3) A quick but controlled stop.
4) Safely swerving around an obstacle.
If you choose to take your test through a private agency, be prepared to perform these same tasks in order to pass your skill test.
License Costs
The fees will range fairly widely depending on whether you decide to get your license through DMV testing or through a private agency. If you got through the DMV, the total fee is $26.50 for a 5 year Class M license. This fee includes the $2.50 security surcharge that is required of all licenses in the state of Nebraska.
Private education and testing centers cost quite a bit more, as they also teach you how to ride a motorcycle safely as part of their course. Fees for these types of classes can range upwards of $300, with an added $85-100 added on for the actual administration of the written and skill tests.

Permit.Bike is singularly devoted to the purpose of providing an easy-to-learn and simple approach to the act of riding.