How To Get a Motorcycle License in Nevada
With hundreds of miles of desert highway, Nevada is an excellent place to enjoy motorcycle riding. It's also one of the easiest states in which to obtain a license, as this state offers multiple paths to doing so.
Instruction Permit
Many riders elect to obtain a Nevada motorcycle license by first receiving an instruction permit. An instruction permit is required for applicants under 18, but is optional for those over 18. After obtaining an instructional permit, individuals may practice their driving skills under the direct supervision of a licensed rider who is at least 21 years of age or older. This rider must operate alongside or behind the permit holder while he or she is operating.
There are certain restrictions that must be followed when holding an instruction permit. Things that are prohibited with an instruction permit are:
• Driving on the highway or interstate
• Operating a motorcycle between the hours of dusk and sunrise
• Carrying passengers
• Riding without being directly supervised by another rider age 21 or older
Those who obtain an instruction permit are required to submit to a skills test before operating. Candidates are required to provide their own motorcycle for this skills test. A licensed motorcycle age 21 or over must ride the bike to the testing site on behalf of the individual being examined. The cost for obtaining an instruction permit is $21.25.
Knowledge and Skills Test
Nevada residents may also obtain a motorcycle license by passing a knowledge test and skills tests at their local Department of Motor Vehicles (DMV) office. To apply, individuals must already be a licensed Nevada driver and pay the $25 testing fee prior to taking the exam. The knowledge exam is based on information contained in the Nevada Motorcycle Operator's Manual.
After successfully passing the knowledge exam, an applicant may then schedule an appointment to complete a hand-on skills test and road test. This appointment can be made online or by calling one of the local testing centers. A skills test is designed to measure an individual's knowledge of the motorcycle and its various control functions. The road test is different from the skills tests, and is used to assess the rider's ability to handle the motorcycle. Candidates will be tested on handling, changing lanes, stopping and turning, among other things.
After successfully passing the road test, riders must then appear in person at the nearest DMV location along with proof of passing. At that time, a photograph will be taken, and then the actual license mailed to the individual's home of record within ten days. The cost of obtaining a motorcycle license in this manner is $21.25.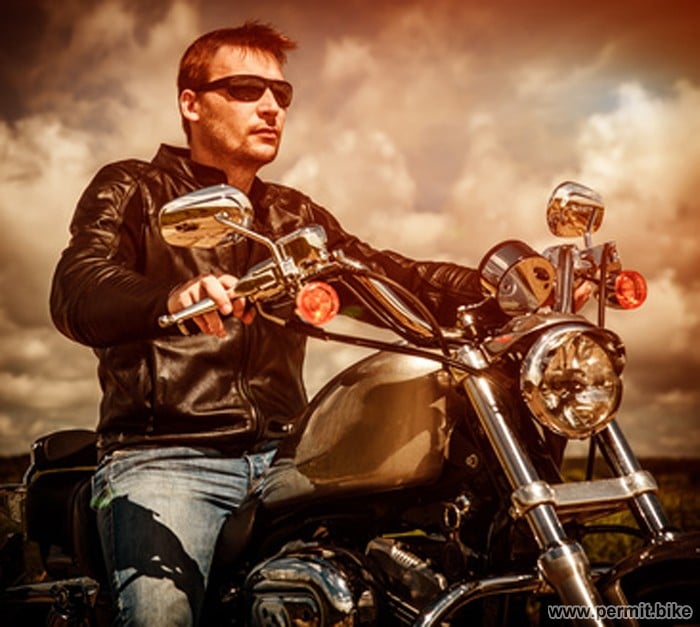 Motorcycle Requirements for Skills and Road Tests
The motorcycle used for skills and road tests must meet certain requirements such as:
• Being registered with the state of Nevada
• Having adequate insurance coverage
• Meeting safety requirements
The size of motorcycle used for the road test is also important, as it will affect the type of endorsement a rider is given. Operators will only be endorsed for the same size engine or smaller on their actual license. For this reason, applicants are advised to bring the right sized bike in order to avoid being greatly restricted.
Approved Motorcycle Course
It's also possible to obtain a Nevada motorcycle license by taking a course approved by the Nevada Office of Traffic Safety. These courses are held at multiple locations throughout the state, including Las Vegas, Reno, and Carson City. Information on available courses can be obtained through the Nevada Department of Motor Vehicles (DMV).
Upon completion of the course, individuals may take their Certificate of Completion along with their current Nevada driver's license to the DMV in order to receive a Class M license. Applicants who are age 18 and under must be accompanied by a parent or guardian, who must sign a financial responsibility statement located on the application. An application must be submitted within one year after completing an approved course. A fee of $21.25 is required at the time the license is issued.
Out of State Transfer
New residents can transfer an out of state motorcycle license by bringing their current license, original birth certificate or Social Security card to a DMV office. After paying the applicable fee, the license will then be transferred. Switching the license will cost $27 for residents age 64 and under, or $22 for those who are 65 and older.
The Silver State is very friendly toward motorcycle riders, which is why there are so many options available for obtaining a Nevada motorcycle license. All of them allow people to perfect their skills first to ensure the safety of everyone on the highway.

Permit.Bike is singularly devoted to the purpose of providing an easy-to-learn and simple approach to the act of riding.