How To Get a Motorcycle License in Oregon
Any licensed driver in the state of Oregon is eligible to acquire a motorcycle instruction permit or an endorsement to operate a motorcycle. If you are a motorist interested in riding a motorcycle on the state's roadways, you can complete an application for an endorsement before receiving your permit. Through the motorcycle training program promoted by the Oregon Driver and Motor Vehicle Services Division (DMV), beginning cycle riders as well as experienced ones can gain professional knowledge and training. This comprehensive course prepares them to qualify for an Oregon motorcycle license and to operate motorcycles in busy urban traffic and on highways.
What types of instruction are included in this motorcycle training program?
The motorcycle training program recommended by the Oregon DMV is offered by Team Oregon. For any licensed motorist in the state who wants to obtain an Oregon motorcycle license, it provides instruction on such topics as the following:
• Effective braking techniques;
• Safe turning methods;
• Protective clothing for riding a motorcycle;
• Lawful traffic strategies;
• Skillful obstacle avoidance; and
• Motorcycle maintenance practices.
This training program is a requirement for anyone 61 years of age or younger who applies for a motorcycle endorsement. As of January 1, 2015, every new cycle rider will be required to complete this study course. Team Oregon offers two levels of motorcycle road training to applicants:
Basic Rider Training. – This course provides 15 hours of instruction to beginning riders. This three-day course includes seven hours of training in the classroom as well as eight hours of practical riding instruction. Each student is provided with a training cycle (125-250cc) and a DOT helmet. This training program is highly advised for novice motorcyclists. The fee for this training course is $199.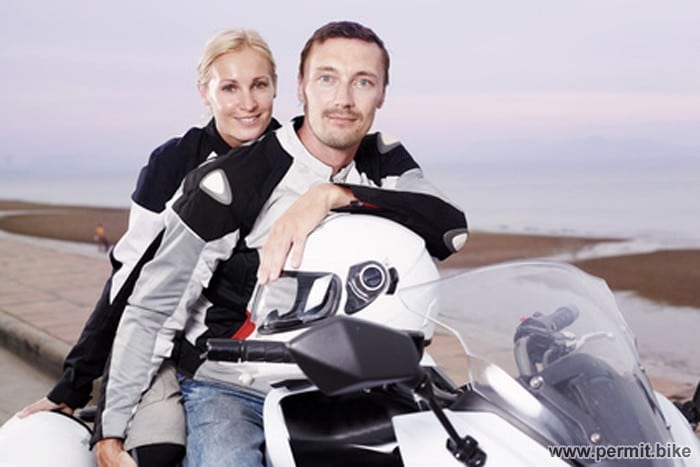 Intermediate Rider Training. – This eight-hour training program is designed for motorcyclists who already have basic riding skills like riding, shifting, turning and stopping. Completed in one day, this course strengthens all areas of riding skills and methods of handling traffic as well as open roadway travel. All students are provided with training cycles (125-250 cc), and students without their own helmets are supplied with DOT helmets. This is an excellent training course for riders with limited or no recent experience. The fee for this course is $169.
Who is eligible to obtain a motorcycle instruction permit in Oregon?
In Oregon, all licensed drivers seeking motorcycle instruction permits can complete applications at their local Department of Motor Vehicles offices. After obtaining a permit, each permit holder may operate a motorcycle during daylight hours when supervised by another person who owns an Oregon motorcycle license. This licensed driver must be 21 years of age or older and must remain in visual contact with the permit holder throughout each road practice session. Criteria for obtaining a permit require that each applicant:
• Is a resident of the state of Oregon;
• Is 16 years of age or older;
• Provides proof of both identity and address (U.S. government issued document);
• Possesses a valid Oregon driver's license;
• Submits a Driver License/Identification Card Application;
• Satisfactorily passes a motorcycle endorsement knowledge test formulated from information provided in the Oregon Motorcycle and Moped Operating Manual. This exam tests applicants' knowledge and understanding of state driving laws, traffic rules and other vehicular operation regulations;
• Pays required testing and issuance fees (A one-year motorcycle driver permit issuing fee is $23.50. There is no charge for taking the knowledge and skills test for obtaining a motorcycle driver permit.); and
• Has no revoked or suspended driving privileges in Oregon or in any other U.S. state.
Who can lawfully obtain an Oregon state motorcycle endorsement?
In order to obtain an Oregon state motorcycle endorsement, each candidate must submit an application in person at a DMV office. An endorsement grants authorization for operating motorcycles of any size on state roadways. To meet endorsement requirements, each applicant must be:
• A resident of Oregon state;
• Sixteen years of age or above;
• Able to provide valid proof of address and personal identity;
• In possession of a valid Oregon state driver license;
• Able to submit a completed Driver License/Identification Card Application;
• Able to satisfactorily pass a knowledge test and an on-road driving test for motorcycle endorsement; (Presenting a Basic Rider Training Completion Card issued by the Team Oregon Motorcycle Safety Program is also acceptable as proof of driving skill proficiency.)
• Able to satisfactorily pass the vision screening exam;
• Able to make payment for the endorsement testing and issuance fee charges;
• Free of any revoked or suspended driving privileges in Oregon or any other U.S. state.
If you are under the age of 18 and not married, you are required to present the signature of a parent or guardian before completing the Driver License/ID Card Application for the purpose of obtaining an Oregon motorcycle license. Applicants under 21 years of age must successfully complete the Motorcycle Basic Rider Training Course offered by Team Oregon. For an applicant with an existing Oregon driver license, the endorsement fee is $87, and all applicants without a current driver license from the state of Oregon are charged an endorsement fee of $144.
___________________
Sources:
http://team-oregon.org/
http://www.oregon.gov/ODOT/DMV/Pages/driverid/idproof.aspx


Permit.Bike is singularly devoted to the purpose of providing an easy-to-learn and simple approach to the act of riding.