How to Get a Motorcycle License in Pennsylvania
You've been sitting on the side of the road long enough watching your friends enjoy the open road. You've finally made the decision to buy a motorcycle and join the group. While purchasing your first bike is as easy as handing over the cash and signing the paperwork, obtaining a motorcycle license in Pennsylvania is a different matter. This step-by-step guide will help you get through the process.
The Basics of Getting The License
The motorcycle license is known as a Class M license. To be eligible for this license, you must pass a basic motorcycle knowledge test and submit an application for the license itself.
If you are under 18 years of age, you must have your learner's permit for at least six months and complete 65 hours of supervised riding by a licensed instructor.
Make sure that you study for the test. Applicants are only allowed to apply for a motorcycle permit three times in a five year period.
Step 1: Visit Your Local Pennsylvania Department of Transportation
Visit the nearest DOT branch located next to your home. You'll need to obtain an application for Motorcycle Learner's Permit (also known as DL-5) and the Pennsylvania Motorcycle Operator's Manual.
Step 2: Pass the Motorcycle License PA Permit Test
The next and one of the most crucial steps is to pass the motorcycle license PA learner's permit exam. This will allow you to obtain a permit to ride a motorcycle for the purpose of practice.
During the same visit to the DOT, you'll need to complete a vision exam. Before you take the learner's permit exam, study as much as possible. You only have a few chances to pass it every five years.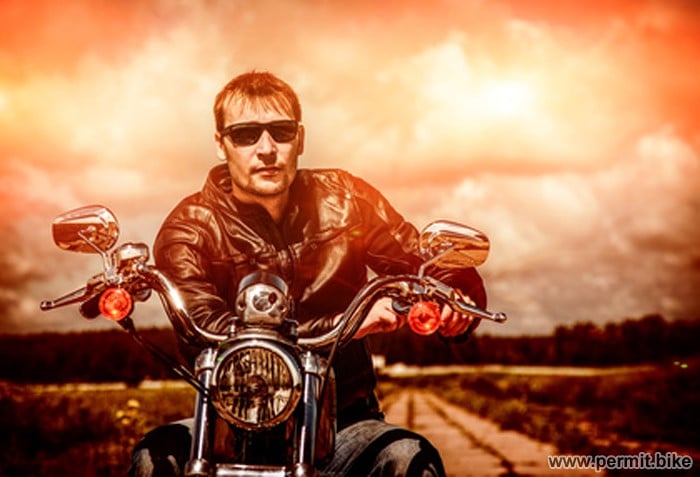 Step 3: Practice Your Riding Skills
Once you've obtained your permit, it's time to practice your riding skills. Through the Department of Transportation, you have the option to take the Motorcycle Safety Program. If you choose to complete this course, you won't be required to take the skills test. A final test will be administered at the end of class, which, upon passing, grants you the right to get a motorcycle license PA.
Most future motorcycle riders opt to enroll in the Motorcycle Safety Program because the skills test itself administered by the DOT is known to be extremely tough. The evaluation given as part of the Safety Program is centered around what you actually learned in class, making it a more obtainable goal to pass for most future riders.
What You Can Do With Your Permit
A motorcycle learner's permit is the only option if you want to eventually get your license.
When you have your permit, you're only allowed to ride a motorcycle after the sun rises and before the sun sets. During this time you must always be accompanied by someone who already holds a valid Class M license. You must never carry a passenger with you unless they are a certified Class M license instructor.
The motorcycle permit is only valid for one year, so be prepared to take the skills test or enroll in the Motorcycle Safety Class as soon as possible.
Once you've obtained your motorcycle learner's permit, it's time to practice.

Permit.Bike is singularly devoted to the purpose of providing an easy-to-learn and simple approach to the act of riding.