How To Get a Motorcycle License in Iowa
Riding down a peaceful Iowa road – cornfields in the distance, and fresh country breeze blowing through your hair. There aren't many things more refreshing than that. But, you can't just hop on a motorcycle and hit the open road. State law requires individuals to possess a valid Iowa motorcycle license. So, how do you go about making that happen?
A) MOTORCYCLE INSTRUCTION PERMIT
In order to obtain an Iowa motorcycle license, the process begins with first obtaining an instruction permit, otherwise known as a learner's permit. To receive an instruction permit, you must possess a valid license and – pass a vision test, a written knowledge examination, and pay the additional fee of $2 per year for each year the license is valid. Or, if the potential rider doesn't have a regular license, they may take a general written test plus the necessary motorcycle knowledge test, and pay $6 per year for just a motorcycle endorsement.
The exams cover questions pertaining to street signs, hand signals, traffic laws, and rider safety. In addition, applicants under the age of 18 are required to complete a Department of Motor Vehicles (DMV) approved basic motorcycle safety course. Once an instruction permit is obtained, you may ride – with some restrictions – until you're ready to try for your actual license. These restrictions include:
1) Anyone with a permit:
-Not permitted to ride between sunset and sunrise, or any time there isn't adequate light
-Not permitted to carry passengers
2) 16-17 year olds with a permit:
-Must be accompanied by a licensed rider, and must remain in the direct view of them at all times.
-The licensed rider must be either 21+ years old and an immediate family member; or 25+ years old with the learner's parent or guardian's written permission
3) 18+ with a permit:
-Must be accompanied by a licensed rider, and remain in the direct view of them at all times.
-The licensed rider must be either 21+ years old and an immediate family member; or 25+ years old if they're not related.
**Iowa will waive the skills test requirement if the applicant is over 18 and has successfully completed a DMV approved basic motorcycle safety course.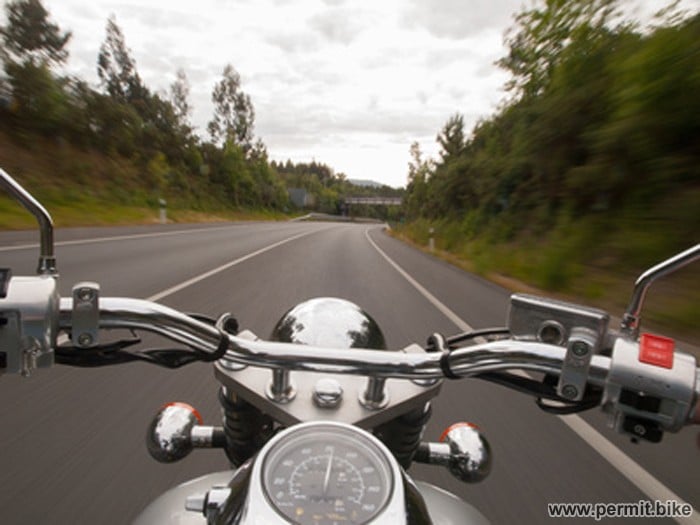 B) OBTAINING AN IOWA MOTORCYCLE LICENSE
After a learner's permit has been held for a minimum of 6 months, an application for a full motorcycle license can be completed. In order to become a fully licensed rider, a knowledge test and an on-cycle skills test must be successfully taken. The knowledge test covers basic laws and safety measures, while the on-cycle test is designed to give an accurate report of the rider's true abilities. The on-cycle skills test has a variety of maneuvers and riding skills that must be properly displayed, to prove that the rider can safely handle a motorcycle. These maneuvers may include:
-Normal stop
-Sharp left turn
-Cone weave
-Right U-turn
-Quick stop
-Obstacle swerve
If the knowledge test is passed, and the examiner is satisfied with the results of the on-cycle test, a Class M will be added to your license – which signifies a motorcycle endorsement. You are then permitted to ride without supervision, carry passengers, and ride while it's dark, if you wish.
C) MOTORCYCLE SAFETY TIPS
The Iowa DMV lists a few crucial safety tips when preparing to ride a motorcycle. These tips are important enough to be noted by the DMV, therefore, should be taken seriously:
-Have the proper training. A majority of people involved in motorcycle accidents have no proper training. Ensuring that you are as knowledgeable and confident as possible, lessens risks when riding.
-Never drink and drive. As with any type of vehicle, alcohol should never be consumed when you plan on riding a motorcycle. Alcohol related accidents are one of the leading causes of vehicle crash fatalities.
-Wear proper safety gear. While Iowa doesn't require one, rider's are always encouraged to wear a DOT-approved helmet. Eye protection, proper foot wear, long pants, and a long-sleeve shirt are also suggested. Bright colored clothing can also make sure rider's are more visible to other drivers.
-Stay alert. Eliminate all possible distractions, and always be aware of your surroundings when riding. Also, clearly communicating – with hand signals – your intentions with other driver's reduces risks for collisions.
D) RESOURCES/ADDITIONAL INFORMATION
There are a few places, other than your local DMV, that you can study motorcycle safety and skills. These may include:
-Iowa Motorcycle Operator's Manual. This manual can be downloaded from the Iowa Department of Transportation's website, or one can be obtained from your local DMV.
-The Motorcycle Safety Foundation. This is a non-profit organization that provides training in proper apparel, traffic strategies, and motorcycle maintenance.
-The Motorcycle Rider Education Program. This program provides riders with classroom learning time and on-road activities to further their skills.


Permit.Bike is singularly devoted to the purpose of providing an easy-to-learn and simple approach to the act of riding.